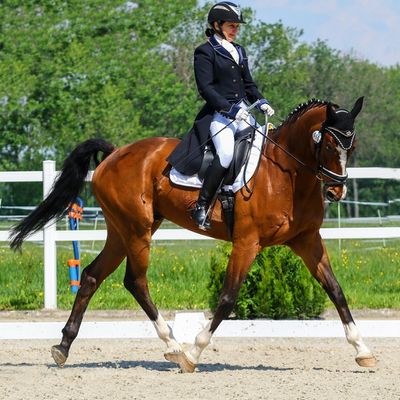 Dr Dorota Opyd and Sandro Hero from Poland are regulars on Dressage Anywhere and have brought together a fab team of riders. Dorothy is regularly in the rosettes and we caught up with her to find out more!
How did you get into horses? And what age were you?
I always loved horses and I tried to ride my grandmother's heavy farm horse bareback when I was young. The opportunity to ride in the saddle came when I was 21 years old and I found a pony trekking centre close to where I lived. As from then I fell in love with horses.
Tell us an interesting fact about yourself!
Horses were my hobby for most of my life. I was a nurse, driving instructor, business woman working for corporations, politician working at the parish council in the UK, business women running my own business in Chester. Along that I have studied and after I finished my PhD at the University of Liverpool and was awarded a Doctorate degree I decided to change my life completely and abandon my business and political life to work around horses and do what I love more: dressage.
I had two dear horses in my life. Sporting Hero who has died recently (read his story here) and my second horse which I have trained myself from four years old: Sandro Hero. I should also thank my best dressage trainers Dianne Breeze and Janet Horswill who pushed me and believed in me. My goal was always to wear tails and compete internationally and so with their help I got my dream and I am and International dressage rider and a trainer myself. My dream came true...
Tell us a bit more about your horse
Sandro Hero is a 15 year old bay Oldebburg by Sandro Hit. My dressage trainer Dianne Breeze found him for me and we have been together for 11 years.
Have you got any interesting or funny stories about your horse?
Many! But one stayed in my head when I was competing in a dressage competition organised by Foxes Riding School on the Wirral. I was so focused on my test that I did not realise there was a mirror just opposite the judges, so I entered the arena from the wrong side and saluted towards the mirror, to the amusement of the judge and the public. I had never have seen a judge laughing so much!
What level do you compete at?
FEI Small tour: PSG and Inter I.
How do you prepare for a dressage test? Any top tips?
The training of a dressage horse is an ongoing process with five steps forwards and six steps back. The most important is to train one level higher than you compete at and if anything goes wrong, then go back to the basics. Even when I train Grand Prix at home, sometimes I spend a whole 45 minute session in walk doing lateral work. Warming up in walk for no less than 10 minutes is also crucial.
What horsey product or item could you not live without and why?
The pessoa. It is fabulous at helping to build the horse's back muscles and encouraging them to step under. And of course my Veredus magnetic rug - it does wonders.
What do you want to achieve in 2019?
Try my first Grand Prix!
What's your biggest challenge?
Passage!
What's your biggest achievement to date?
One time changes, smooth straight and many of them.
How did you first hear about Dressage Anywhere?
From my trainer Dianne Breeze.
What's your favourite thing about Dressage Anywhere?
That riders are awarded with rosettes which are sent to the rider even she/he lives in another country. Also competing with many competitors from all over the world is great.
What would you say to someone just getting started in dressage?
If you keep the hard work consistent, you can be very successful even if you do not have the greatest most expensive dressage horse. Every horse on this planet can learn to do dressage.