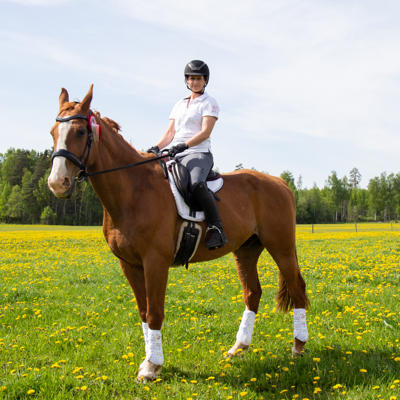 Kristina Lotamois and Olaf from Estonia placed 1st in April's Veteran Horse Prelim class and 3rd in May's Veteran Horse Prelim class. Kristina has been competing in Dressage Anywhere's online dressage competitions since 2017 - we caught up to find out more about Olaf and Friidom.
How did you get into horses? And what age were you?
I was 22 when I first sat on a horse. I was in the middle of medical university, needed some exercise and passed these stables so just stepped in! I first rode different riding school horses and about 10 years ago I started riding Olaf. He is quite a difficult horse, so I found that nobody else liked him much, but we started a good partnership.
I stopped going to dressage competitions because Olaf's travelling got progressively worse and then I found out about Dressage Anywhere. Meanwhile I became a carriage driving groom and took part in training Friidom. He's a much more difficult horse to ride in dressage, compensating with the most willing-to-work temperament I know. He is an Estonian native breed-Tori horse, with one of the oldest studbooks in Europe. As a team we attended the carriage driving (single horse) World Championships in Kronenberg, it's the first time Estonian Tori horses qualified and we finished in such a high level competition.
Tell us an interesting fact about yourself!
I work as a invasive cardiologist, not a very feminine field :). And I work in two hospitals separated by 200km.
Tell us a bit more about your horse
Olaf is a 16 year old Estonian sport horse. I said to myself that I would never by a horse, but after a year of riding Olaf he was due to be sold and I thought about it one evening - the next day I became a horseowner, with the money I had saved to repair my roof. I had to use buckets and bowls every time it rained for a year :).
Have you got any interesting or funny stories about your horse?
Before me he worked with a lot of people, but after I bought him he started to become very confident and dominant - he was friendly and happy alone or with others in the paddock. In his earlier years during schooling he didn't like many people handling and riding him - he is quite stubborn. But if my back is sore he feels it instantly and starts moving very smoothly, so even if I can barely walk I can ride. He only travels with me and attacks other people, but he doesn't like traveling. The last time I found him sitting like a dog in the corner of the lorry sweating, so I decided to stop moving him and compete online only.
What level do you compete at?
Olaf has had a year off so we now compete at Prelim level. Friidom is CAI 3* and I'm competing dressage LK (the equivalent of BD Elementary).
How do you prepare for a dressage test? Any top tips?
I look up different riders who have ridden the same test on YouTube, draw diagrams on paper, memorise it and try to imagine all the movements. I try to think where the movement really starts and ends and what and when are my movements/aids to the horse. So if I have to stop at A what should I do in the corner before it etc.
What horsey product or item could you not live without and why?
My dressage saddle - it's nice to ride bareback, an ordinary saddle is ok, but I have really bad balance and back, so my first dressage saddle took my riding to the next level.
What do you want to achieve in 2019?
With Olaf I'd like to get to Novice, with Friidom to improve in Elementary.
What's your biggest challenge?
Working in a contact with these relatively strong horses who aren't natural dressage horses.
What's your biggest achievement to date?
My biggest achievement is placing 1st and 2nd in a local dressage competition and 6th in Latvia. Being part of training and competing a carriage horse, including last year's World Carriage Driving Championships and Driving Championships of Estonia with our second groom Kale and driver Ular Raudsepp.
How did you first hear about Dressage Anywhere?
A friend told me!
What's your favourite thing about Dressage Anywhere?
Not having to travel plus I can choose the time to ride and film if my work schedule is busy.
What would you say to someone just getting started in dressage?
Filming your tests is always helpful, analyse them the same day and remember what you did and how your horse responded. Dressage is a very long journey, more like a lifestyle. Don't get frustrated if something doesn't work straight away, after a while you will see an improvement and then it's amazing to develop that partnership with a horse.