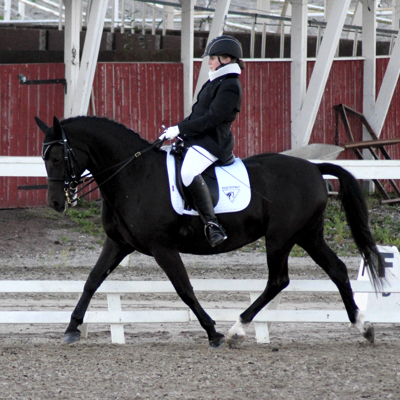 Lilli Vehmas from Finland competed in our BD Para-Equestrian competition gaining a score of 73.75%. Lilli is a keen blogger, keeping her followers up to date with all things para dressage. We caught up with Lilli in our Born to Shine on the Centre Line series, which she aptly renamed Born to Ride!
How did you get into horses? And what age were you?
I've been a lost cause from the very first moment I understood what a horse is. I started riding when I was six years old.
Tell us an interesting fact about yourself!
I always have my lucky charm when ever I'm riding tests. Both online dressage and at shows. My secret is Scottish socks! I have several pairs of them. Even though I live and love Finland, I left a piece of my heart in Scotland when I did a work placement there in 2011. I have visited several times after that but half of my heart refuses to come home.
Tell us a bit more about your horse
Maestoso Madam is Lipizzan horse, a rare dark coloured mare born 2002 in Hungary.
Where did you find each other and how long have you been a partnership?
Feels like always! In 2006 I was looking for a proper school master, gelding or stallion. And what did I find? A four year old Lipizzan mare who had been ridden for only a couple of months. But something just fell into place and I saw the potential in Masu, who was bit of an ugly duckling at that point. I used to be a groom for a Finnish dressage rider and she trained her and competed all the way to national level, especially cups for young horses. In 2009 I took over completely. In 2013 I was injured in horse accident and that was quite a game changer. It took almost three years to get classification and our story's chapter number two started with a caption: Para-Dressage here we come!
Have you got any interesting or funny stories about your horse?
I have tales to last a thousand and one nights! We have been a team for so long. She is like ten horses in one beautiful package and not a day goes by without her making me smile. She still behaves like a youngster, always curious and happy!
What level do you compete at?
In Para-Dressage we just reached national level. Previously we have been competing at regional level. My classified grade is IV. In dressage we compete at approximately Elementary level. On online dressage we have participated in Elementary and BD para classes.
How do you prepare for a dressage test? Any top tips?
I ride the test only once or twice when I'm training to avoid my horse learning to anticipate the movements. I make transitions in different places and take parts of the test and mix them up. The most important thing when riding the test is that you and your horse enjoy doing the thing you love the most. The work has been done for weeks, months and years before.
---
'Leave the stressage out of dressage!'
Lilli Vehmas
---
What horsey product or item could you not live without and why?
Helmet! When I was injured I sustained an incomplete spinal cord injury and traumatic brain injury. I wasn't riding so I didn't have my helmet on. I can't afford to take any risks and I always wear a helmet when I get on a horse. I'm so strict about using helmets that I don't even hit the like button on social media if someone is riding without a helmet. We need to educate our eyes and minds that a helmet is a necessary and beautiful thing! Responsible riders set an example for young people as well. I hope that in couple of years people think that riding without a helmet looks as odd as playing ice hockey without helmets in old photos.
What are you goals for the future? What do you want to achieve in 2019?
As a para rider with huge challenges it's really hard to set goals but I aim to compete as much as I can and enjoy every moment of it!
What's your biggest challenge?
When it comes to riding it has to be the fact that right side of my body doesn't work that well. My biggest challenge is still the financial situation. The world can be a brutal place if you become disabled after an accident. But that is one reason I have the highest appreciation for online competitions which is by far the most affordable way to compete.
What's your biggest achievement to date?
The fact I haven't given up. A more athletic achievement is that we were Regional Champions in Para-Dressage last year and won the Regional Ranking.
How did you first hear about Dressage Anywhere?
I've been following British Dressage related groups on social media. I think I first came across with Dressage Anywhere in 2017 and in 2018 I started to compete online. I tried several different ones but by far Dressage Anywhere is the best I've tried!
What's your favourite thing about Dressage Anywhere?
It's not just one thing that makes Dressage Anywhere the best. First of all the top judges! I would never have the chance to get a score sheet from a specialist Para-Dressage judge. That was the encouragement I needed just before I entered my first national competition. Secondly Dressage Anywhere runs smoothly and I'm always amazed how quickly I get my result with the scoresheet. Thirdly I love the fact that I can watch most of the tests on the website! It makes competition transparent and you can always learn something from watching other people riding.
What would you say to someone just getting started in dressage?
Leave the 'Stressage' out of Dressage! And most of all enjoy! I personally love the fact that you will never be ready. You can learn something new everyday and have fun while you're learning!