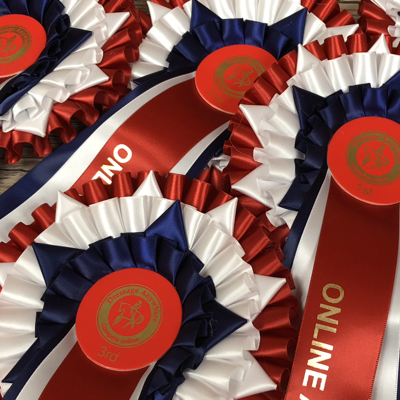 UPDATE: Qualification now closes on 15 October 2019
BD Online Championship qualifiers are open!
Into its sixth year, these Championships enable riders, who are unable travel to live competitions regularly, to take part in competitive dressage. This is perfect for riders in remote locations, those without transport or difficult to load horses and also those who don't own their own horse or pony but ride regularly at a riding school or club.
It's really easy to take part - enter online and then once you've ridden and filmed your test, upload the video to the Dressage Anywhere website for judging by a BD List 1 or 2 judge.
What levels are included in the Championships?
Riders entering our regular monthly Classes 1 to 6, that's Introductory to Advanced Medium, can qualify. New for 2019 is the inclusion of our Junior classes, so under 16s taking part in Class 1a Introductory and Class 2a Preliminary, can also qualify. Qualifying classes are indicated with a Q in the schedule.
Participants in our Veteran Horse Competitions are also eligible to qualify, but there won't be a specific Veteran Horse class in the Online Championship Show. Ex-Racehorses and RDA competitions already have their own championships, so results from these are not eligible.
How to qualify
The qualification period ends on 15 October 2019 competition (any tests uploaded before this date will be eligible for qualification). To qualify riders must achieve three scores at 60% or above and be a British National or British Expatriate. The BD Online Championships are open to both BD members and non-members.
We will be backdating qualifying scores to 1 January 2019 and contacting all riders who have already qualified or have a part-qualification.
How do I know when I have qualified?
From next week, when you log in to your Dressage Anywhere account, you'll see a link at the top of the page to register your qualification. This will take you through to BD's Bookwhen system, which you must use to compete in the Championship Show. It's free to BD members, £10.00 to non-BD members, plus the entry fee. There are no additional memberships required.

When is the Online Championship Show?
The BD Online Championship Show will run during October/November and will be open only to qualified riders who have registered their qualification with Dressage Anywhere and British Dressage.
What are the Championship Show prizes?
Prizes available in each Championship Show class are:
1st BD Club membership or £35 BD shop vouchers
2nd Set of test sheets with diagrams or a 12 month TestPro subscription
3rd Charlotte Dujardin book or a bobble hat/BD cap
Find out more
To find out more information, visit the Rules page of Dressage Anywhere or get in touch if you have a specific query.