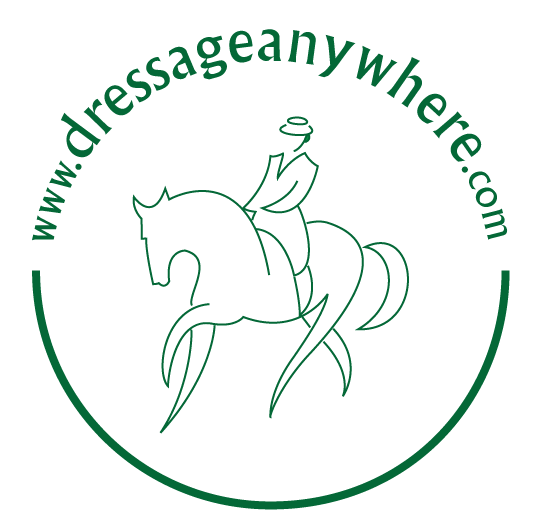 Dressage Anywhere, a new online dressage competition site is for riders all over the world who are now able to compete 'internationally' without even leaving home. It was launched in the UK at the beginning of this year and has already attracted entries from many countries. They have all been keen to ride in front of experienced British Dressage and FEI judges - and none of the riders have even had to travel to a competition venue - they simply uploaded their videos to the website for judging.
The Dressage Anywhere schedule is very comprehensive with monthly competitions ranging from novice to advanced tests with prize money and rosettes. The FEI Pick Your Own Training classes - where judges who are also trainers give more feedback than they would be able to in a live situation - include the tests for Seniors, Young Riders, Juniors, Ponies, Para Equestrian and Event Riders. The Dressage Anywhere Panel is made up of appropriately qualified and experienced international FEI and listed British Dressage judges making it possible for competitors to have a good variety of judges each time they enter a class.
Dressage Anywhere offers the perfect opportunity for riders to compete or train, even those who live many miles away from a competition centre, who do not have other riders of a similar standard in their area or who just want to get feedback on their test before travelling to an important competition. There is also an option to keep your video private which means that only you and the judge can watch your test.
International FEI judge Jo Graham said 'This is an exciting new concept, competitors will be lucky enough to benefit from being judged by experienced, high level British Dressage and FEI judges for tests ranging from Novice to Advanced'.
To enter, get a friend to video your test, upload it to www.dresssageanywhere.com following the simple on-screen instructions - entries are not allowed from previously judged competitions. The video must be filmed in real time (i.e. not edited to show the best bits) and the tests must be filmed in the correct sized arena complete with markers. There is also helpful advice on filming and uploading your tests. Judging is usually completed very soon after uploading a video and the completed score sheet with comments can then be downloaded as a PDF. Riders can see their results on the scoreboard and as the classes are open for 1 month can check on their ranking during the month.
www.dressageanywhere.com is the perfect opportunity to try some new tests or move up a level and get some 'real' judge's feedback. For international riders who want to get copies of the FEI tests they may be downloaded from the FEI site and for British Dressage tests there are links on the site to buy/download the tests from various companies. Since its launch there have been entries from many countries worldwide.
Registration is free and the cost for tests range from £10-£16. Competition clothing is not necessary and horses can wear boots and bandages - it just has to be clear that your test has not been filmed at a previous competition.
This revolutionary way of entering competitions means that riders who cannot travel can get comments from top judges and compete worldwide.