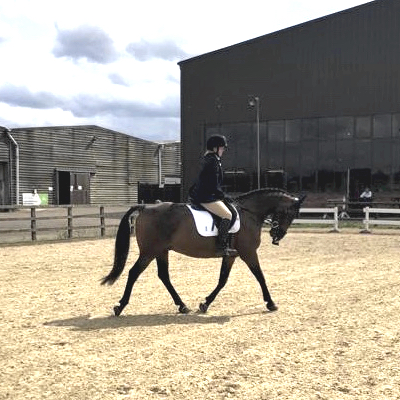 Emma Stevens from Hertfordshire has been taking part in our online dressage competitions since 2016 and more recently in our Para-Equestrian competition. We caught up with Emma to find out more about her and her lovely horse River.
How did you get into horses? And what age were you?
I first rode when I was 3 years old on holiday - a 1 hour hack! I loved it and have been riding ever since.
Tell us an interesting fact about yourself!
I have Multiple Sclerosis.
Tell us a bit more about your horse
River is a 12 years old bay Thoroughbred x Welsh.
Where did you find each other and how long have you been a partnership?
He was home bred from my first pony, Fudge and I was there when he was born, the first to touch him and we've been together since. I backed him myself as a 4 year old.
Have you got any interesting or funny stories about your horse?
River is allergic to oats, rye, maize and carrots, so basically most horse feed!!
What level do you compete at?
We've just qualified for the Para Bronze Winter Championship and are about to attempt to qualify for the silver.
How do you prepare for a dressage test? Any top tips?
We've recently been using a music play list to improve our walk as this is such a large part of the Grade II tests. The rhythm of the music gets us both marching forward!
What horsey product or item could you not live without and why?
Our myler bit. Since changing to this bit River has been much more comfortable in his mouth and a much steadier contact.
What do you want to achieve in 2019?
My original goal for 2019 was to qualify for the Grade II Para Bronze Winter Championship. Having managed that I'm now planning to also qualify for silver in 2019 too.
What's your biggest challenge?
The disease that is Multiple Sclerosis. Fatigue is tough going and totally knocks me for six daily. Numbness and lack of muscle strength (my 8 year old is stronger than me!) makes it very hard to give the right signal to the horse. I'm really luck River is kind, forgiving and does his best to work out what the hell I'm asking of him!!
What's your biggest achievement to date?
Qualifying for the bronze championship on our first trip out with 69.12%. (I keep mentioning that don't I! Oops)
How did you first hear about Dressage Anywhere?
From the RDA Facebook group when I was at my lowest point riding with a disability.
What's your favourite thing about Dressage Anywhere?
I love getting my scoresheet back really quickly so I can set my next set of schooling goals. The Para Grade 2 test was a test run for my show in August. Riding it with Dressage Anywhere first gave me the confidence to go out there and have a go at the show and also gave me tips on areas to work on in the run up!
What would you say to someone just getting started in dressage?
Enjoy yourself! And remember to use your test to better yourself, take the judge's comments on board and use them to set your schooling goals.