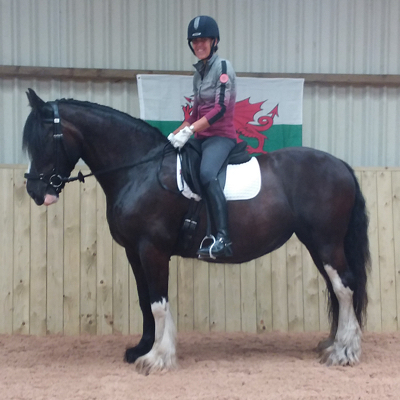 Deborah Wicks is a Para Grade II rider based on the Wales/Shropshire border and has been competing her horse, Hope and Anchor, in our BD Para-Equestrian competitions. We caught up to find out more about the partnership and are delighted to share Deborah's story with you all.
How did you get into horses? And what age were you?
My Dad loved horses and I must have been about two years old when my Dad first put me up on a pony; we had no access to horses of our own, so it was pony rides on holiday and visits to Dartmoor to watch the wild herds.
Tell us an interesting fact about yourself!
I am a Post Modernist Abstract painter.
Tell us a bit more about your horse
Hope And Anchor is a nine year old day bay Irish Cob.
Where did you find each other and how long have you been a partnership?
We have been together since Hope was a very green, not long backed youngster, in 2015.
Have you got any interesting stories about your horse?
Hope joined us in May 2015 and almost at once began to have frightening, yet transient, collapses during which she would be soaked in sweat. She was tested for a variety of conditions-including Motor Neurone Disease, but all to no avail. She was not growing as a healthy youngster should and was always tired. Things began to come to a head when in January 2016 she suffered a massive trauma to her shoulder in the field necessitating nine months of box rest; how and why she sustained such an injury we could not explain.
All became clear, however, during the next couple of months when we seemed to spend as much time at the vets as at home. Hope's condition deteriorated and her symptoms worsened with increasingly frequent collapses; these 'attacks' now took on the form of severe colic, but it remained impossible to make a diagnosis. It was a very bleak time.
Finally, I was able to catch one of the 'attacks' on camera. The footage was sent to Leahurst Equine Unit and Hope was admitted in November 2016. The diagnosis: severe Mucometra, a condition where fluid is not expelled from the uterus and so stagnates and putrifies within the womb. This explained the collapses and extreme pain; Hope was suffering birthing contractions as she attemped to expell the fluid from her womb. The poor girl had taken to galloping away from her pain, hence her terrible shoulder injury earlier in the year.
Despite the best efforts of the Leahurst Team, Hope's womb could not be saved and, after a brief respite from internal treatments, a full hysyerectomy was carried out in the beginnning of December: a very rare and ambitious piece of surgery in such a big animal. The hysterectomy was a success, we prepared Hope's stable at home for her recovery, and there was much celebration! What happened next was shocking. The hysterectomy wound opened and expanded allowing the small intestine to herniate. I don't think that I will ever forget the telephone call which was to 'prepare me for the worst' as the team of anaesthetists and vets rushed into the hospital that evening. The vets at Leahurst operated on Hope throughout the night to save her with stitches that would 'hook a shark' to hold everything in place.
---
A little mare with a heart of oak
---
Miraculously, the intestine was saved, and at four o'clock the next morning Hope opened her eyes in the recovery room. We then embarked upon two months of critical care during which Hope was so close to death - several times - that there was often a vet in her stable twenty four hours each day. It was impossible to control her pain and yet somehow, this little mare with a heart of oak managed to finally stand and look around her.
Each day I travelled to the Wirral to sit quietly with Hope, and to meet with the astonishing Veterinary Team to whom we owe everything. Post surgical pneumonia, not uncommon, but highly threatening in such a sick animal reared its head followed by an infection within the wound; again, not surprising as Hope now had a wound that spanned from her udders to her girth. In January of 2017 Hope was allowed home. My husband and I were taught how to clean the wound, some of which had to remain open to continue to drain, and bandage Hope's torso daily before strapping her into a huge cradle corset to hold her core together. I had already given up work to care for Hope, and nursing her certainly kept us busy! Supported by our dedicated Vet who also dressed the wounds three times each week, we continued in this way until the drain hole finally closed in June. The corset came off. The bandages came off. Hope was allowed to take her first tentative and weak steps onto grass. We were scared beyond words; and then we cried. What happened after is a bit of a blur in many ways: tiny steps developed into hours and then days in the paddock. Intensive physiotherapy to protect Hope's stomach muscles began and then, unbelievably, in October of 2017 I sat in Hope's saddle. And there are no words to describe my joy.
This is by no means the end of the story: Hope's behaviour became erratic, often dangerous, as she grew stronger; a clear indicator of the effect that such prolonged and major trauma has had upon her. Although always at home with us, it has taken a very very long time for Hope to build trust in people; including ourselves. Rehabilitation work, both physically and emotionally, continues and will always be ongoing for Hope. Her diet and exercise are planned to the tiniest detail. Our first test in December 2018; she won, and I cried. Since then she has gone from strength to strength. It is impossible to describe what my Hope And Anchor means to me. A little mare with a heart of oak who has survived and prospered against all the odds. When times are hard, remember that there is always Hope.
How do you prepare for a dressage test? Any top tips?
Lots of relaxation in walk and plenty of transitions. I always arrive with lots of time to allow my horse and I to rest up prior to warm up.
What horsey product or item could you not live without and why?
Ooh, that's tricky! But, I think it's Hope's HayGain steamer which keeps her respiratory system well; especially after suffering post operative pneumonia.
What do you want to achieve in 2019?
We are aiming to represent Wales in the Para Home Internationals; that would be a very proud moment if we succeed.
What's your biggest challenge?
Finding enough Para competitions within driving distance, which is where Dressgae Anywhere has proved to be invaluable!
What's your biggest achievement to date?
No question: bringing this astonishingly courageous and intelligent mare back from the brink to be the strong and lively horse that she is today. Few people imagined that Hope would even survive, but she did, and she was 'Born to Shine on the Centre Line'.
How did you first hear about Dressage Anywhere?
From our BD Wales Para Rep.
What's your favourite thing about Dressage Anywhere?
The detailed feedback and encouragement! We can do our tests close to home which for a lot of Para riders is really important.
What would you say to someone just getting started in dressage?
Go quietly on your own with a good friend to help you, relax, enjoy it, and be very proud of your horse as you enter the arena.