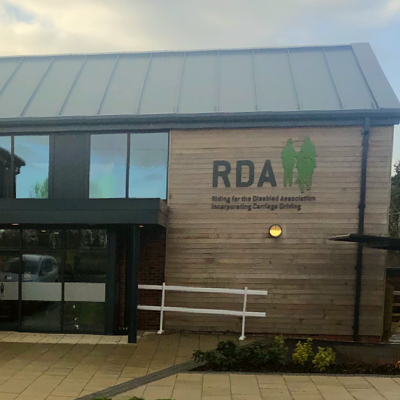 Last weekend we were lucky enough to be invited to the RDA Dressage Conference at Lowlands Equestrian Centre, RDA's HQ.
The day opened with a great session by John Robinson, BD List 2A judge and the RDA Dressage Lead. John took us through the changes to the RDA tests, mainly that led tests now have a collective mark for the leader. The free walk has been replaced by 'allow the horse to stretch on a longer rein'. This brings this move in line with para tests. The free walk doesn't maintain a contact which isn't safe, stretching on a longer rein is far safer for the rider.
Dressage Through the Judge's Eye
We moved onto a session about what the judge is looking for in terms of the scales of training and what that looks like in reality. Judging is undertaken according to the standard or criteria set out on the test sheet. One horse or athlete is not judged against another. Accuracy is really important, but the judge only comments on what is relevant and helpful - they do, afterall, want the competitor to learn from the experience and achieve a better test next time.
Some specific bits of advice were:
at a live event the judge might communicate with the commander if there is an error of course and it would be beneficial to the rider to do this.

in the final halt, it's better to step forward to correct the halt than step back, where a penalty might be awarded.
Classification Explained and RDA to Para Pathway
We had a very informative session by Cecilia Rosser, FEI Classifying Physiotherapist on national and international classification - the process, what it all means and how it works. And then we finished with a great session by Julie Frizzell, BD Para Director on BD Para-Equestrian and the opportunities open to Para riders.
Live Demo
We were also treated to a live demo in the indoor arena with a horse, rider and leader showing us how the led walk and the led walk and trot tests flow. John provided a helpful commentary for us to understand the correct position of the leader and also how the new stretch on a long rein works in practice. The team from Penniwells RDA gave us a great display of their winning Costume Freestyle entry - it really was fabulous to see and hear!
We had a slot to talk about Dressage Anywhere and what we do - the RDA Online Dressage Championships and how it all works. But I was blown away by how many people in the room had heard of us and work with their groups to ride in our classes! Huge thank you to the whole team at RDA for inviting us and to all attendees for being so welcoming!
March is last month riders can qualify for the RDA Online Dressage Championships and just one score at 60% or above is all that's needed. Qualified riders will be notified next month and the Championship Show will run online in May.