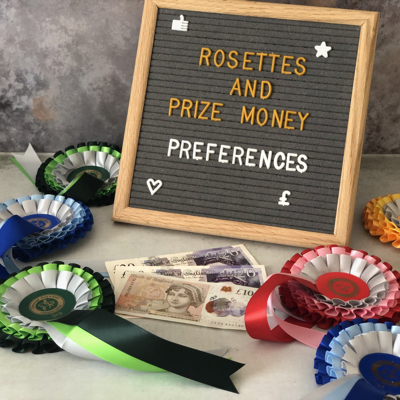 Now you can set your rosettes and prize money preferences on your Dressage Anywhere profile!
Let's face it, we're all becoming more conscious of how we can produce less waste and build a more sustainable and environmentally friendly culture. So we're giving you the option of whether you would like to receive your rosette if you place in an online dressage competition and also how you would like to receive your prize money (UK only).
Every month we ask our prize winners how they would like to receive their prize money - either as a cheque or as a voucher they can use towards future online dressage entries. Handing this over to you guys means there will be no delay in getting your rosettes and prizes organised!
We know that many of you love receiving your rosettes and that's absolutely fine, we're not going to stop sending them! But we're giving you the choice - rather than take up precious room in a random cupboard or draw, if you don't want to receive a rosette we will donate £1 to an equine charity instead. Stand by for news on which one we've chosen!
To set your preferences, go to your Dressage Anywhere Profile Page and choose the Rosettes and Prize Money tab.