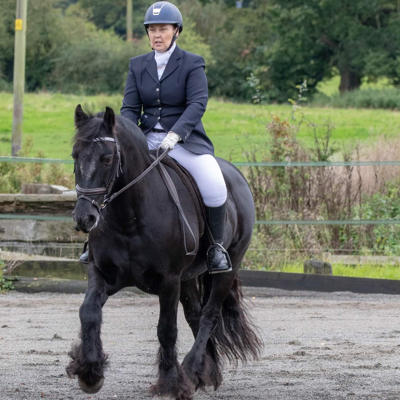 Claire Dawson from Cheshire and Sunnybrowe Prince are regulars in our online dressage competition classes. We caught up with Claire to find out more about Mac and their goals for the future.
How did you get into horses? And what age were you?
I started riding at 2 years old. My mum bought me a welsh section a (skellorn pony) from her friend who is a breeder
Tell us an interesting fact about yourself!
Love an early night and getting up early to ride ponies.
Tell us a bit more about your horse
Sunnybrowe Prince (Mac) is an 18 year old fell pony (Murhwaite breeding).
Where did you find each other and how long have you been a partnership?
I have owned Mac for eight years, and my friend Aimee Devane of Follywood Stud found him for me. She produced him for couple of years and got him to Hoys.
Have you got any interesting or funny stories about your horse?
He is such a character. He loves hacking out and knows what time is carrot time. We also went on the Queens 90th birthday ride at Windsor and were Guards of Honour.
What level do you compete at?
Intro and Prelim. He does ridden and inhand veteran and showing classes too!
How do you prepare for a dressage test? Any top tips?
I do a lot of hacking out which he loves. When we are schooling we do lots of transitions. We work on 20m circles, lots of serpentines. Mac has natural rhythm, he is lovely and active and I just let him get on with it. He enjoys it so much.
What horsey product or item could you not live without and why?
My Alva aromatherapy products.
What are your goals for the future? What do you want to achieve in 2020?
To enjoy my dressage and my shows.
What's your biggest challenge?
I don't have any challenges, we tend to go with the flow.
What's your biggest achievement to date?
We came second at the British Elite Show in the inhand veteran class; getting through to the evening performance was amazing!
What's your favourite thing about Dressage Anywhere?
I love been able to compete from my friends arena and the judges are brilliant.
What would you say to someone just getting started in dressage?
Enjoy it!