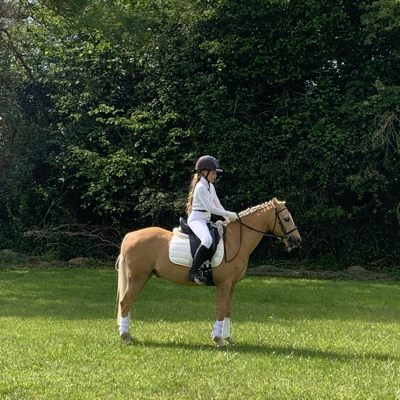 Lily and Fizz are regularly in the ribbons with Dressage Anywhere, so we caught up to find out more about the partnership and what they've been up to!
What age were you when you got into horses?
I am 11 and so is my palomino pal Fizz!
Tell us an interesting fact about yourself!
I won My Quest U21 Intro with Fizz and Highest Scoring Native Breed 2019.
Tell us a bit more about your horse
Southwark Bucks Fizz is an 11 year old Welsh Section B Palomino.
We have been together for two and a half years, my good friend knew about Fizz and we were lucky enough to hear about him before anyone else did. He was the first pony I ever went to look at and I fell in love with him, but you should see him, anyone would (although he kind of knows how gorgeous he is I think!
Have you got any interesting or funny stories about your horse?
Fizz is funny because he is so intelligent, I have spent my whole lock down with Fizz. I have taught him to walk backwards this summer by raising two hands and to raise a foot for a treat but that wasn't such a clever idea because when he is peckish he now tries super hard to lift two feet (diagonal pair) to get my attention. When I heard about Dressage Anywhere I quickly went back to practicing my dressage moves!
What level do you compete at?
We really did well at Intro last year and we were attempting some Prelim classes, I had hoped to try Novice for the first time in the Spring but that didn't happen. I am so pleased that I have been able to work on Prelim with Dressage Anywhere. I was sad because I had qualified for the Pony Club Winter Champs and that was cancelled in April. But I have been so pleased that I can work on my Pony Club Novice test with Dressage Anywhere and still work towards a league, it has kept me and Fizz progressing.
How do you prepare for a dressage test? Any top tips?
I have learnt that I need to be calm and relaxed, I don't think you can learn anything before a test, if you're trying to learn your movements on the day, you probably haven't prepared enough the week before. I think the best thing on the day of the test is to focus on how much you love to ride and all the successes you have had and remember to smile. If you don't bring any pressure or stress to your riding, if you can learn to relax, its more fun and you tend to do better in your test.
What horsey product or item could you not live without and why?
I have an Equetech white top with a grey horse on the front made from swirls and flowers, its pretty and smart, that makes me feel like winning! I like it when its warm enough to ride without a jacket and everyone can see the horse, it's hidden if you have your jacket on so everyone just thinks its a plain white top.
What are your goals for the future? What do you want to achieve in 2020?
I am hoping that we are a strong enough pair to enter some Novice July competitions with Dressage Anywhere, it's good to step up to the next level online, there will be no travel stress and it can't be cancelled.
What's your biggest challenge?
My biggest challenge is learning to stay positive when things don't go as planned, like one time a herd of cows went passed the arena during my test and Fizz decided to do some freestyle lateral moves.
What's your biggest achievement to date?
The same thing, my biggest achievement is remaining positive even though it is challenging! Sometimes Fizz wants to show my riding skills off in a way that won't achieve a red ribbon and I have to ride through that and show everyone I can cope, it might not be a day for a red ribbon but if you handle that day well, it will still be a success that you can celebrate.
About you and Dressage Anywhere How did you first hear about Dressage Anywhere?
I think it was from The Pony Club.
What's your favourite thing about Dressage Anywhere?
I love looking at the leader board, but I am most grateful for Dressage Anywhere allowing me and Fizz to improve and receive feedback during the lockdown period.
What would you say to someone just getting started in dressage?
I would say go for it, get online, I have told all my friends and my cousin to get online with Dressage Anywhere so we can compete, the judges are very fair and will encourage you to be the best you can be, its so exciting when the marked test arrives and then waiting to see how the class is placed.