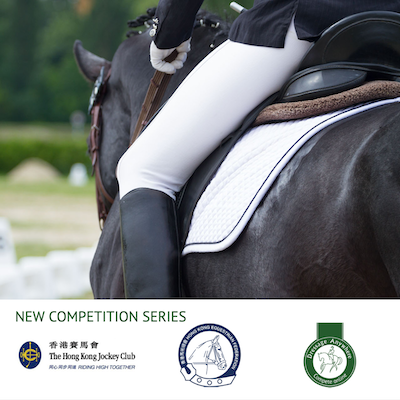 The Hong Kong Equestrian Federation has launched an online dressage competitions series with Dressage Anywhere!
The Hong Kong Equestrian Federation has started their own online dressage competition this month, sponsored by the Hong Kong Jockey Club and run via Dressage Anywhere.
Riders from Hong Kong have been competing with us for some time and it's great to be able to host this series to support the start of the 2020-21 season that's been affected by the COVID-19 pandemic.
Over ten years we've developed our platform for riders to upload a video of their dressage test, be judged online and then download their scoresheet, which makes it the ideal platform for those competing overseas.
We caught up with Amanda Bond, Executive Manager of the Hong Kong Jockey Club and former BD CEO: 'to keep everyone in our community safe during the pandemic, this new initiative gives us a perfect way to offer dressage whilst our shows are on hold. Having worked with Dressage Anywhere a few years ago, I knew they would provide an excellent solution to meet our riders' needs. With the sponsorship of The Hong Kong Jockey Club, we are thrilled to be offering all our usual range of classes as well as a monthly team league.'
Dressage Anywhere is also working closely with Angela Kong, Secretary General of Hong Kong Equestrian Federation. Angela says, 'Online dressage competitions keep all our members, riders and officials connected during the present unusual pandemic period. It is exciting to work with Dressage Anywhere in both the online competition and training on judging online for our local dressage judges.'
Riders based in Hong Kong can view and enter the October schedule here.