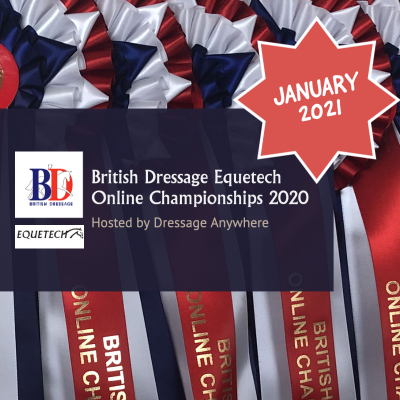 We were so excited to be running the BD Equetech Online Championship Show this month but given the restrictions with #lockdown2 in England and so many other riders affected across the UK, we've made the difficult decision to postpone this event.
The BD Equetech Online Championships will now run in January 2021 and the schedule will be available to view and enter from the beginning of December. The new closing date for entries will be 26 January 2021 and the video submission deadline is 27 January 2021.
We will very shortly be writing to everyone who has already entered to let them know, including some early birds who have already ridden and filmed their tests!
We completely understand that many of you will be disappointed by this news - it's not a decision we've made lightly but we hope this gives everyone a chance to be able to take part in this fantastic event.
Please get in touch if you have any questions about your entries.
All of our other competition and training classes are running as normal and open for entries here.
Have You Qualified?
If you've qualified for the BD Equtech Online Championships, there is still time to register your qualification (free for BD members, £10 for non-BD members). Follow the link from your Qualification Page or click here to register via BD's Bookwhen website.
BD Equetech Online Championship Schedule
The Schedule will be live at the beginning of December, but judging won't start until January 2021. Here's the schedule so you can start perfecting those Championship Tests!
Introductory
Introductory A (juniors and seniors classes)
Preliminary
Preliminary 14 or 17A (juniors and seniors classes)
Novice
Novice 30 or 37A
Elementary
Elementary 49 or 55
Medium
Medium 63 or 75
Advanced Medium
Advanced Medium 90 or 91