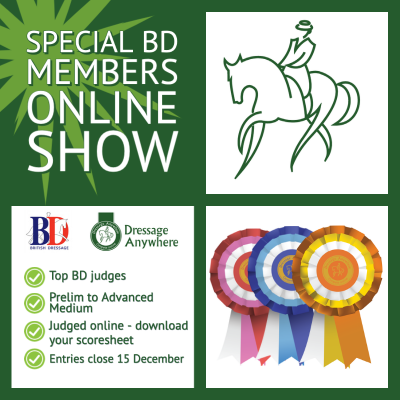 British Dressage members are invited to take part in the Special BD Members Online Show, hosted by Dressage Anywhere!
From now until the middle of December, Dressage Anywhere is hosting a special online show just for BD members. We know that so many riders were ready to compete in live competitions and the latest lockdown status has put your competition plans on hold.
Run from Preliminary to Advanced Medium level, you can choose between a short arena test or a long arena test and we've included the long arena tests that will be used at next year's Winter Regionals.
BD points won't be awarded and your scores won't be recorded, but this will be great preparation for live shows when they kick off again.
The schedule is open for entries and closes on 15 December.
If you've been praticising a specific test for a live show and that's not included in this BD Members Online Show, have a look at our BD Training Class, which is judged by a BD List 1 judge who will give you additional feedback to help with your training.
Other classes in our schedule are open to any rider and you don't need to be a member of a governing body. Choose from Veteran Horses, Ex-Racehorses, British Eventing, RDA, BD Para-Equestrian (bronze tests) or The Pony Club. Plus there are training classes for PSG, Inter I and II and Grand Prix.