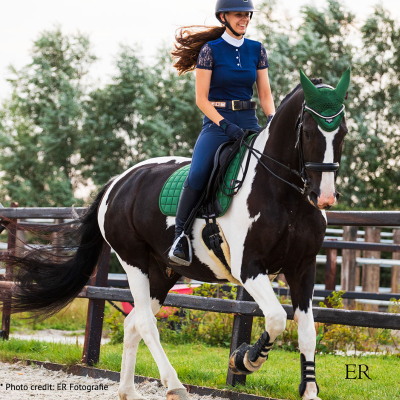 Iris Nijboer is this weekend's star of Born to Shine on the Centre Line! Originally from the Netherlands, Iris is currently studying in the UK and still finds the time to enter monthly competitions with her team, QFD. Competing with us for many years, we've been able to watch Iris and her lovely horse's progression through the levels.
How did you get into horses?
I have been involved with horses for pretty much as long as I can remember. My Mom has been a passionate equestrian for a long time, and I took over her enthusiasm when I was a little girl. I learned how to ride on a little grey Shetland pony named Diesel, and as I grew bigger I moved on to bigger ponies and eventually to horses at 14. I am now riding our own 17.1 hh horse, Hidde, and will hopefully continue to ride for as long as possible!
Tell us an interesting fact about yourself!
Although I am originally from the Netherlands, I have been living abroad for almost 9 years now! I am currently studying a BSc (Hons) Bioveterinary Science at Hartpury University in the United Kingdom.
Tell us a bit more about your horse
Hidde fan Lansicht is a 13 year old coloured Dutch Warmblood. Hidde was originally my Mom's dream dressage horse (he still is). As I have received my parents tall Dutch genes, I grew too tall for ponies when I was 14 years old. At that time I was living in Bahrain and I had progressed onto riding horses there. Coming back to the Netherlands and riding my pony, I realised it was time for me to find my pony a lovely new home where he could teach another young rider as much as he taught me. The following summer I still wanted to continue competing and riding, so my Mom offered for me to try her horse. He is a true school master so it was a great opportunity to further my dressage skills. Since then, I haven't stopped riding him and it has now been nearly five years!
Have you got any interesting or funny stories about your horse?
I think something quite funny about Hidde is how much he LOVES fillies! He will look at them with his ears pricked forward for hours! I bet if he could foster a filly he would be such a great Dad hahaha! Other than that I think it's pretty funny how he is a black and white coloured horse, and he will stare at himself in the mirror with no problem, but he spooks at cows, silly boy!
What level do you compete at?
We are currently competing BD affiliated Medium and Advanced Medium.
How do you prepare for a dressage test? Any top tips?
My top tip is to learn your test from your head and set a goal for what you want to achieve in your test. Whether that is one general goal, or one little thing per exercise. That way you won't be scrambling trying to do your test in the moment, but you will take time to prepare your exercises and know how to get ready to ride the most marks in every part of the test.
What horsey product or item could you not live without and why?
I don't think I can only pick one item! For myself, I would pick my helmet. I never ride without it and think safety should always be a priority as a rider! For my horse I would pick Equilux stain remover. Having a horse that loves to be dirty, but with long white legs can be quite challenging. The stain remover is perfect for touching up his legs before competition or to clean him for training.
What are you goals for the future?
As 2020 is almost over, my goal for 2021 is to make my debut at BD Advanced level. Furthermore, I would like to attend a high profile competition or championship next year. However, most importantly I want to continue to have as much fun as we are having now! Hidde loves spending time out in the field, hacking or jumping so my goal is to continue doing those things as well.
What's your biggest challenge?
I think my biggest challenge has always been time. I am equally dedicated to my education as I am to my horse riding, meaning balancing school work, sports and social life could be quite challenging. I often chose to train instead of spend time with friends, and I would stay up late during the week and work extra hard before competitions on the weekends to stay caught up in school. It can be tiring but in my opinion it has always been worth it, and it has taught me to work hard and never give up!
What's your biggest achievement to date?
I think my biggest achievement to date would be that I got accepted into the Hartpury Equine Academy. To hear that a panel of judges thinks my horse and I are good enough to be part of such a prestigious team, and that they want to work with us makes me really proud.
How did you first hear about Dressage Anywhere?
My Mom told me about it a few years ago when we were living in Qatar. She said we should give it a go as there were only limited dressage competitions and it would be a great way to continue to gain experience.
What's your favourite thing about Dressage Anywhere?
My favourite thing about Dressage Anywhere is the supportive atmosphere around the platform. Whether it's the judges comments, Facebook page or Whatsapp group chat with my team; everyone wants to learn, have fun and support one another.
What would you say to someone just getting started in dressage?
Don't compare yourself to others! Everyone has a different riding story and it can be discouraging to compare yourself to someone who has been riding for 20 years. You have to look at how far you have come and to how far you will go with the time ahead of you. And of course don't forget to enjoy every single ride, it can be frustrating when something doesn't go the way you want it, but remember to have fun and everything else will follow after.