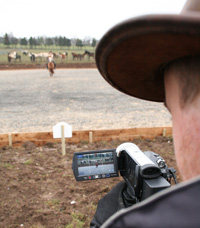 Not sure what you need to get going? Review our getting started guide for some quick tips on riding a test for Dressage Anywhere designed to get you going quickly.
Things you will need
Copy of the dressage test

Arena or flat surface either 20x40 or 20x60 (check the test for the correct size)

Video camera and someone to film your test

Computer to transfer your video from the camera.
Things you need to do
Enter a class - we publish two months of schedules at a time

Learn the test or arrange to have a caller (except for British Eventing tests).
Rules summary
No martingales or bits that don't conform to British Dressage rules

If you plan to wear competition dress, pop some boots or bandages on your horse to demonstrate that the test hasn't been ridden at a live competition

Gloves must be worn

Horse and rider combinations may not enter a competition class more than one level below their highest entry.
Quick tips on filming
Film from C, the judge's position

Avoid excessive zooming in or out - the judge will need to see the shapes and patterns of the test, but will also need to see the rider at the far end of the arena

Try to keep the horse and rider in the centre of the frame

Film the entry at A at the beginning of the test and the exit at free walk on a long rein

For an example video, see our YouTube page.
Uploading your test
Upload your video by the end of the month, no exceptions will be made. Our judges work really hard to judge your tests quickly but be aware this process takes longer if you upload your video within five days of the end of the month.
You can get your dressage test to us in one of three ways:
What happens next?
When your video has been judged we'll send you an e-mail with a link to download your score sheet

Scores are posted on the live scoreboard and finalised within five days of the competition closing at the end of every month

Prizes and rosettes are posted within a week of the competition closing. Please allow seven working days for your rosettes and prizes to arrive.
More information
Contact info@dressageanywhere.com for any other queries.