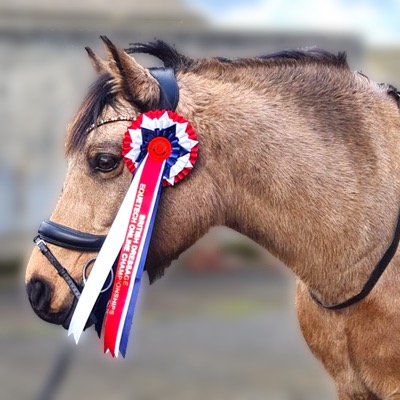 Megan Bevan and Rickamore Aurora from Pembrokeshire placed 6th in the BD Equetech Online Championships 2020 at Introductory level.
How did you get into horses? Tell us as much as you can!
I got into horses after sharing the love with a horse mad mum. After a long break from riding, four years ago I decided to get back into horses as I really wanted to ride again.
Tell us an interesting fact about yourself!
It might not be interesting but it's certainly exciting for me, I'm just about to embark in my first season of breeding. Joining my mum who is an experienced breeder and we've just bought our first broodmare together!
Tell us a bit more about your horse
Rickamore Aurora is a 13-year-old dun pure bred Connemara.
Where did you find each other and how long have you been a partnership?
We've been together for four years in March and we found each other after my mum showed me a Facebook ad for her and I simply said 'yep that's the one I want, Princess Aurora'.
Have you got any funny stories about your horse?
Aurora has a character all of her own, she's clever, loyal, loving, cheeky, sassy and makes me laugh on a daily basis! The funniest thing I can think of is when we put her and her field mate in the school to loose jump together and Aurora did all the work for us! Forcing the other horse around the outside of the school and then over the jump all by herself!
What level do you compete at?
We competed at Intro in the Online Championships but we are now trying Prelim!
How do you prepare for a dressage test? Any top tips you'd like to share?
I would say to not forget the basics! It's important to remember to work on centre lines, halts and circle shapes. Not just contact and activity and suppleness! It's something I've been working on recently and have been surprised by how much they've improved in such a short space of time!
What do you want to achieve in 2021?
In 2021 I hope to be bless with two gorgeous foals, one of which out of the one and only Aurora. I'd also like to start online competing with my other horse.
What's your biggest challenge?
Is staying relaxed in the canter and loosening the grip of my inner thigh and knee to stop blocking the movement.
What's your biggest achievement to date?
I would say going champion with Aurora at a Dressage to Music league!
How did you first hear about competing with Dressage Anywhere?
I first heard about Dressage Anywhere through Digital Horse and have been hooked ever since!
What's your favourite thing about competing with Dressage Anywhere?
How quickly the tests are marked! It's perfect for showing what to work on ready for next months tests!
How long have you been riding with us?
I've been riding for 4 years but only started dressage about 2 years ago!
What would you say to someone just getting started in dressage?
Don't give up! The challenge is part of the thrill.
Quick Fire Round
Geldings or Mares?
Mares
Tea, Coffee or Other?
Tea
Hacking or Schooling?
Hacking
Spring, Summer, Autumn or Winter?
Spring
Bays, Greys or Chestnuts?
Greys
Wellies or Heels?
Wellies
Crisps or Chocolate?
Crisps