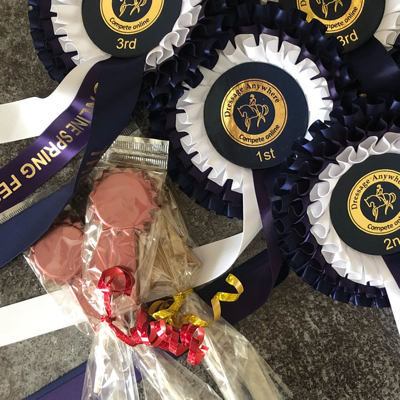 The results for our The Pony Club Spring Festival Final are now FINALISED! Riders from all over the country took part in the qualifying round in April and qualified riders were invited to take part in this month's Final.
Congratulations to everyone who took part and especially our placed riders. Spring Festival rosettes to 6th place and special chocolates from Cathy's Chocolates are on their way.
Class 1 NOVICE
1st Masie & Charlwood Not the Norm 76.14%
2nd Izzie & Carnhill Cooper 71.36%
3rd Gace & UCS Sheffield 71.14%
4th Ruby & Bierway Ella Mae 70.23%
5th Lucy & Landsbrook Spartacus 69.77%
6th Isla & Cococabana Sunrise 69.55%
Class 2 INTERMEDIATE
1st Abi & Magic Bean 74.66%
2nd Lucy & Landsbrook Spartacus 74.14%
3rd Beatle & Carnsdale Cosmopolitan 72.93%
4th Jessica & Top Star 72.07%
5th Meg & Houston 70.52%
6th Sienna & Majestic Light 70.34%
Class 3 OPEN
1st Jessica & Top Star 71.73%
2nd Harry & Camlough Fabio 68.85%
3rd Lucy & Special Edition 67.50%
4th Eleanor & Imerson 65.77%
Full results for all three classes are available on our scoreboard.