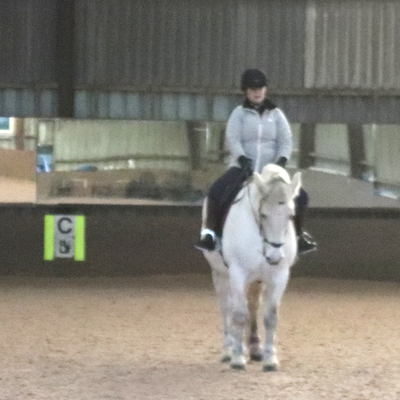 Neve and Willow are the next stars of our Born to Shine on the Centre Line feature. Read more about them here.
How did you get into horses?
I was very lucky to be born with a horsey mum so I've been riding since before I could walk, she got me a very naughty Shetland pony called Barney and I've been addicted to riding ever since!
Tell us an interesting fact about yourself!
I went blind when I was 16, which lead to me getting into para-dressage, before this I did pretty much everything else (showing, jumping, mounted archery and even a bit of trick riding) because I actually thought it was really boring! Luckily now it's my favourite thing to do!
Tell us a bit more about your horse
Willow (or Stefania when she's being fancy) is a 20-ish year old grey Romanian cob. I started riding Willow when I started riding at Lakefield equestrian centre just under two years ago, and I'm very lucky that they've allowed me to compete with her in para-dressage.
Have you got any interesting or funny stories about your horse?
Once we were warming up for our lesson and I started to canter - my rein came away from the bit! I didn't realise what had happened as I couldn't see what was going on! Thankfully Willow is quite lazy so stopped very quickly and we managed to reattach the rein.
What level do you compete at?
We compete in Bronze and Silver Grade 4 para-dressage.
How do you prepare for a dressage test? Any top tips?
I always walk my test through on my own to make sure I know it, and make sure I know how many counts I need to know to make sure I'm as accurate as possible.
What horsey product or item could you not live without and why?
My hairnets! I have very long hair so always ride with my hair in a bun with hairnets, as it keeps me from being slapped in the face with a braid! They're definitely something I could not do without.
What do you want to achieve in 2021?
I'm hoping I'll get to compete more and potentially ride at the Winter Championships.
What's your biggest challenge?
Definitely not being able to see, it can be really disorientating and scary when you can't see where you're going, however my coach calls my letters for me to allow myself to become orientated in the arena which helps massively!
What's your biggest achievement to date?
Last August I competed at Solihull's festival of para-dressage and became Grade 4 bronze champion with a score of 72.5% from renowned judge John Robinson - definitely something I'll never forget!
How did you first hear about Dressage Anywhere?
Someone I follow on Instagram mentioned it and I made an account immediately!
What's your favourite thing about Dressage Anywhere?
I love the range of classes! Many sites don't host para or RDA classes and so become very inaccessible, but I was really pleasantly surprised to see that I could join in too.
What would you say to someone just getting started in dressage?
It's definitely not an easy sport, but keep going, because the moment you come down that end centre line after a cracking test it makes everything worth it.