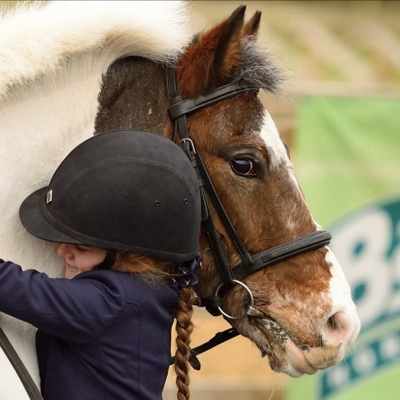 Emily and Stan Three were last year's BD Equetech Online Dressage Champions at Preliminary Junior level. We caught up with them to find out more!
How did you get into horses?
My Mum is a horse rider, trainer and judge. There have always been horses around me. Stan who I won the class with, is my second pony. My first pony was very old and I just learnt really to walk, trot and canter on him. My Mum saw Stan at a show and asked if we could have him when he was outgrown, as he looked to have such a good temperament. I've just had my 9th birthday and hope to keep Stan for as long as possible. He is such good fun.
Tell us an interesting fact about yourself!
When I grow up I want to be a vet.
Tell us a bit more about your horse
Stan Three is a 14 year old skewbald. My Mum saw him at a show with his previous rider and asked for first refusal when the time came for him to move homes. He loves going to the beach and is an all round fun pony.
Have you got any funny stories about Stan?
He likes his food a lot and once dragged me on my backside all the way to the delicious grass!
What level do you compete at?
I've just started really and not done any BD yet. I've done some unaffiliated Intro and Prelims. Stan and I won the Prelim Dressage Anywhere music championship last year. It was my first music attempt and first time in a long arena!
How do you prepare for a dressage test? Any top tips you'd like to share?
I go through it in the house with my Mum and learn it by drawing it on a board. My Mum gives me three tips to remember for each test.
What do you want to achieve in 2021?
I'm not sure yet, but might try Novice...?
What's your biggest challenge?
Remembering everything!
What's your biggest achievement to date?
Winning the two Dressage Anywhere championships and the Riding Club Rising Star award.
What's your favourite thing about competing with Dressage Anywhere?
It's fun to do and good to stay motivated when at home.
What would you say to someone just getting started in dressage?
Be patient and try, try and try again.
Quick Fire Round
Geldings or Mares?
Geldings
Tea, Coffee or Other?
Other: Hot chocolate
Hacking or Schooling?
Hacking
Spring, Summer, Autumn or Winter?
Winter
Bays, Greys or Chestnuts?
Greys
Wellies or Heels?
Wellies
Crisps or Chocolate?
Crisps