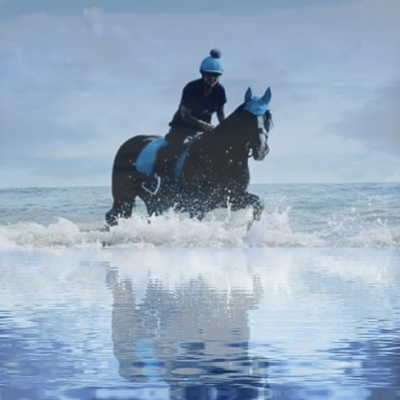 Kirsty Cyprus and Charlie from East Anglia have been riding with us since 2019. We caught up with Kirsty to find out more in our Born to Shine on the Centre Line feature.
How did you get into horses?
I was 39 years old when I got into horses.
Tell us an interesting fact about yourself!
I'm sooooooo determined!
Tell us a bit more about your horse
Charlie is a 24 year old black cob and we found each other on a livery yard two years ago.
Have you got any interesting or funny stories about your horse?
He's a water baby and absolutely loves water!
What level do you compete at?
Introductory
How do you prepare for a dressage test? Any top tips?
Keep calm and breathe!
What horsey product or item could you not live without and why?
I love my Haas brushes.
What do you want to achieve in 2021?
To become a better rider.
What's your biggest challenge?
Improving Charlie's activity.
What's your biggest acheivement to date?
Placing at a Royal Show!
What's your favourite thing about Dressage Anywhere?
The level of judging feels like a real competition.
What would you say to someone just getting started in dressage?
You will become addicted!