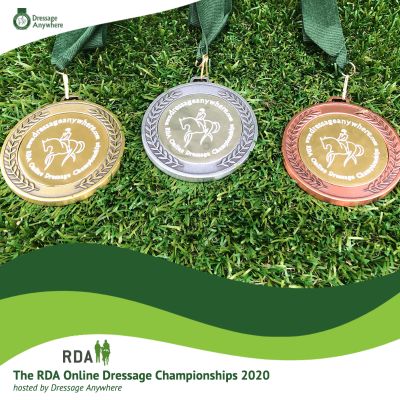 Get it in your diaries folks! The qualifying classes for the RDA Online Dressage Championships open in November 2021!
We very sadly had to postpone the 2020 Online Championships due to the pandemic and with so many groups not able to start back riding until this year, we put the qualifying rounds on hold.
But the great news is - it's back! And it's even better than before!
First of all, all riders who qualified between August 2019 and March 2020 can use their qualification for this Online Championship - we'll be in touch later in the year to confirm.
October's competition is a regular competition and the qualifying classes will start from November and run right through to March 2022. The Online Championships will be hosted by Dressage Anywhere online, during April and May 2022.
How to Qualify
Enter an RDA class between November 2021 and March 2022; one score of 60% or above will qualify you for the Online Championships next year! You must be a part of an RDA Group or Centre to complete your qualification.
What's New?
We've introduced a few new classes:
We award rosettes to 1st-3rd place in every class, no matter how many entries and after that it's to one in four riders and in accordance with our rules. For the Online Championships rosettes will be awarded to 1st-6th place.
We're really excited to livestream the top riders in each class next year across social media and YouTube and hope you'll join us to celebrate! As with all of our previous RDA Online Dressage Championships, medals will be awarded to 1st-3rd placed riders in each class.