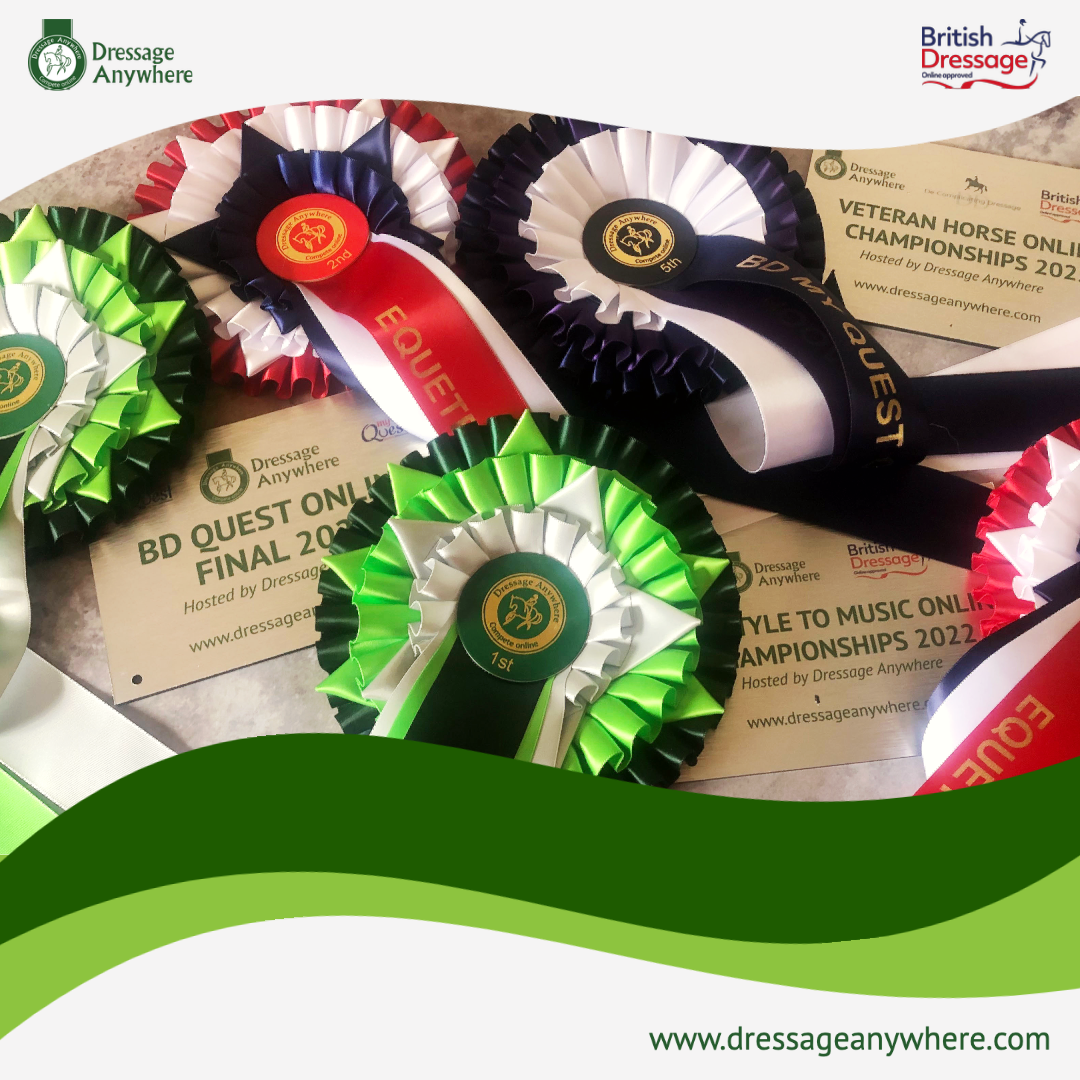 Here's a quick round-up and re-cap of all the Championships and Leagues running on Dressage Anywhere this year.
British Dressage Online Championships
You can qualify for the BD Online Championships throughout the year up to the end of September. Just look for classes marked with a Q at Introductory-Advanced Medium levels. You don't need to be a member of British Dressage to take part, but non-members will need to pay £10.00 to register their qualification. The Championship Show runs in November. More information here.
BD Quest Online
We run monthly BD Quest Online competitions for Teams (BD Team Quest Online) and individuals (BD My Quest Online). Compete every month to earn points and a place in the final in October. BD Quest Club membership is required to take part. Click here for more.
Ex-Racehorses League
Earn points every month in the Jim Boyle's Ex-Racehorses League. The top three at the end of November win cash prizes! Click here for more.
Freestyle to Music
You can now qualify for the second Freestyle to Music Online Championships - more information here.
Veteran Horses
We ran the first Veteran Horses Online Championships earlier this year and you can now qualify for the second. Find out more here.
Rider League
The Dressage Anywhere Rider League 2022 Champions will be the rider and horse combinations who have gained the most points in Dressage Anywhere online competitions that include British Dressage tests run from January to December 2022. You don't need to do anything other than take part, we'll calculate your points automatically! Click here for the current Scoreboard.

Team Challenge
The winner of the 2022 Winter/Spring Dressage Anywhere Team Challenge will be the team with the highest score in the competitions between January and June 2022. All you need to do is create a Team Account, get three or more of your friends to enter competitions and we'll do the rest! Click here for the current Scoreboard.
New Leagues Coming Soon
We recently asked our members about kinds of competition they like best - leagues or Championships and the response was both!
With that in mind, we'll be introducing TWO new leagues for:
Veteran Horses

Freestyle to Music.
Both leagues will run from June until December 2022. The planned 2023 Championships will still run alongside these so you will have multiple chances to win extra prizes and rosettes!
We'll be updating the website ahead of the June competition with more details about how points will be awarded and adding shiny new league boards.