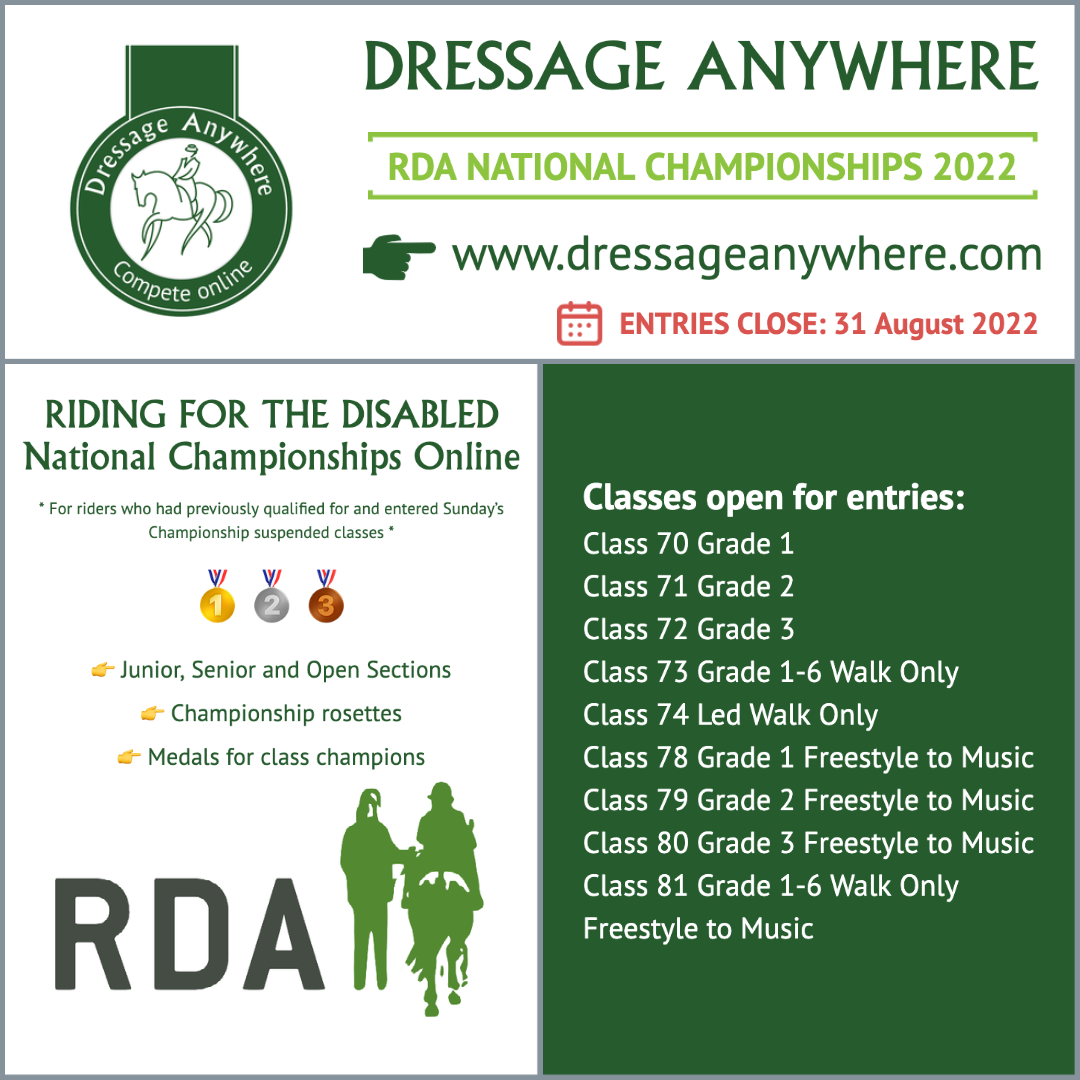 Dressage Anywhere hosts the RDA National Championships 2022 ONLINE!
This summer has proved a real challenge for equestrians across the UK with a heatwave affecting many events. One of those was the final day of the RDA National Championships, which found all classes suspended.
We're delighted to now announce that the following classes will be run online by Dressage Anywhere during August. These classes are only open to riders who had previously qualified and entered the RDA National Championships.
Class 70 Grade 1

Class 71 Grade 2

Class 72 Grade 3

Class 73 Grade 1-6 Walk Only

Class 74 Led Walk Only

Class 78 Grade 1 Freestyle to Music

Class 79 Grade 2 Freestyle to Music

Class 80 Grade 3 Freestyle to Music

Class 81 Grade 1-6 Walk Only Freestyle to Music
The schedule is live and open for entries here. Entries close on 31 August. Please note that although you will receive your scoresheet to download as sooon as your test has been judged, the final scores won't be posted on our scoreboard until the last test has been judged.
If you've ridden with Dressage Anywhere before, then you can login to your existing account and enter the competition.
If you're completely new to Dressage Anywhere, here are some handy tips to get you started.
How to enter
If you're completely new to Dressage Anywhere go to www.dressageanywhere.com and register to create your account. Groups can create a Team Account to manage entries for all their riders. There's also the option to create an Individual Account if a rider or their family would prefer to manage the entry.
Enter the competition
Once registered, go to the RDA National Championships 2022 schedule and choose the class to enter. Click the Add to Cart button and the shopping cart icon at the top of the page will change. Click this to go to the checkout. Follow the on-screen instructions to pay the entry fee.
Rules
RDA competition rules apply, including tack and equipment.
Ride and film your test
Make sure the person filming stands at C, where the judge would usually be.
Filming tips
Start filming shortly before the rider enters at A.

If using a phone or tablet, hold it in a landscape orientation to make sure the judge will be able to see the horse and rider clearly.

Apply a little bit of zoom when the horse and rider is at the far end of the arena.

Stop filming once the rider moves off from the final halt.
Upload your video for judging
Upload from the Entries Page direct to the Dressage Anywhere website. You can set your privacy settings here and choose whether your video is visible on the scoreboard or not.
Upload to YouTube (set privacy as public or unlisted) and copy/paste the link to your entry on the Entries Page (advised for areas with slower broadband speeds).
Send your video to us via www.WeTransfer.com.
We can also accept videos via WhatsApp, OneDrive etc.
What happens next?
Your video will be judged online and you'll receive an e-mail with a link to download your scoresheet. Once all tests have been judged in your class, the results will be posted on our online scoreboard.
Best of luck everyone!