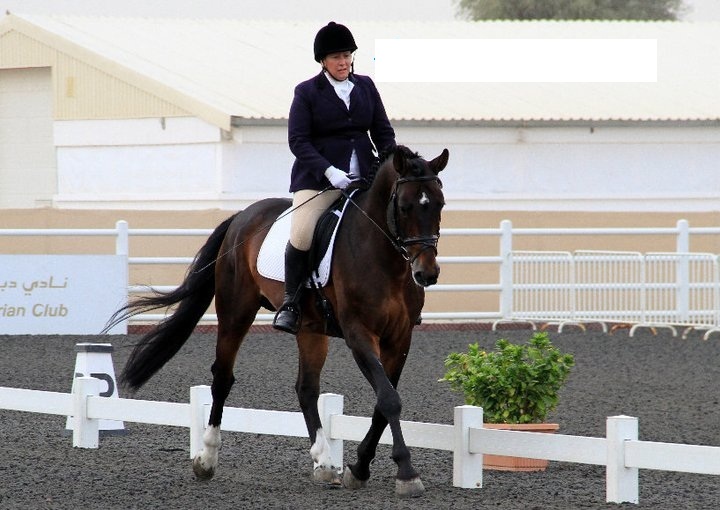 Denise Vertigen and Kipling
Denise wrote to us to tell us all about her horse Kipling:
"In July we celebrated our first ever 1st placing - woo hoo!
I have only owned Kipling, a 10 year old Dutch warmblood stallion since January and had no intention of having another horse having sadly had to have my 20 year old mare put to sleep 2 years ago. Fate had other ideas for me. Kipling is out of Kannan who is by Voltaire, a very famous showjumping stallion and his previous owner did very well with him showjumping. He had a mild injury and he sensibly decided not to jump him anymore.
So along I came and was lucky enough to be able to share him and school him. His previous owner is a lovely guy and was happy for me to work Kipling for a different life i.e. to be a dressage horse. With lots of work and patience, we have gradually overcome quite a lot of problems, one being 'the tongue' which was down to tension. Being part of Dressage Anywhere has given us the chance to compete without the added worries of crowds and ring tension.
Anyway the time came for the owner to have to make the decision to sell him.... I knew I couldn't have another horse again as having had them all of my life, we had to think about our future. My husband (dear man that he is) had said 'Absolutely, no more horses....' well we all know what's coming?! I put in an offer with his blessing, he didn't think it would be accepted and as I didn't hear a thing back, was so worried he was going to be sold. Then on my actual 50th birthday (some weeks later) there was a wonderful e-mail from the owner, accepting my offer and that he had been saving it as a 'surprise' birthday present for me. Well the tears were rolling down. And that's our story.
I cannot tell everyone how joyful I am to have such a lovely stallion with the most gentle nature and what wonderful family and friends I have in my life."