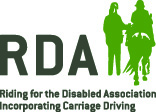 The RDA Dressage Anywhere Championships Qualifiers have now closed. Competitors around the country took part in the qualifiers from August 2012 to March 2013. The best scores count towards the Championship Show.
The top riders in each group scoring 60% or more have qualified to enter the Championship Show which will run during April and May 2013. Riders must be part of an official RDA group, so if your group name isn't displayed below e-mail us to let us know.
Qualified riders or their group representative will receive an e-mail this week inviting them to take part in the Championship Show. If you're unable to take part, let us know by 15 April so we can provide a wild card to someone else in the class.
Test 2 led
Rank
Qualifier
Rider
Horse
Group
Score

1

March

Kiara Green

Rhia

Barrow Farm RDA

66.11%

2

March

Emma Suttle

Rocket

Barrow Farm RDA

62.78%

3

March

Eleanor Willcox

Bow

Mount Pleasant RDA

60.56%
Test 2 unled
Rank
Qualifier
Rider
Horse
Group
Score

1

February

Tracy Yarnell

Sox

Kesteven Rideability

73.33%

2

February

Maria Le Roi

Spider

Kesteven Rideability

72.22%

3

February

Sarah White

Emily

Kesteven Rideability

69.44%

4

November

Patricia Mallett

Sully

Buckenham House Group RDA

66.67%

5

March

Claire Chamberlain

Domino

Wellington and Dummer RDA

65.00%

6

February

Grace Wiley

Lula

Barrow Farm RDA

63.33%

7

November

Peggy Holden

Penny

Buckenham House Group RDA

61.11%
Test 4 led
Rank
Qualifier
Rider
Horse
Group
Score

1

February

Sean Jeffrey

Teddy

Mid Cheshire RDA

67.22%

Retired

October

Sean Jeffrey

Mac Two

Mid Cheshire RDA

66.67%

2

February

Patricia Mallett

Sulley

Buckenham House Group RDA

66.11%

4

October

Caradoc Lindley

Sully

Buckenham House Group RDA

65.00%

=5

February

Natasha Burrows

Willow

Buckenham House Group RDA

63.33%

=5

September

Ashley O Malley

Princess Jasmine




63.33%

=7

October

Peter Gorman

Ace

Buckenham House Group RDA

61.67%

=7

October

Tia Lucas

Fern

Tradissar RDA Hampshire

61.67%

=7

November

Ben Ethridge

Penny

Buckenham House Group RDA

61.67%

10

October

Peggy Holden

Penny

Buckenham House Group RDA

60.56%
Test 4 unled
Rank
Qualifier
Rider
Horse
Group
Score

1

February

Isabel Slack

Fergal

Mid Chesire RDA

75.00%

Retired

September

Jeanette Dixon

Nashend Linkwood

Mid Cheshire RDA

73.89%

=2

October

Diane Pettet

Lucky

Tradissar RDA Hampshire

72.22%

=2

October

Jennifer Yates

Princess Jasmine

72.22%

4

March

Kelly Jarrett

Teresa

Wellington and Dummer RDA

71.67%

5

October

Isabel Slack

Teddy

Mid Cheshire RDA

71.11%

=6

February

Sarah Sherwood

Nashend Linkwood

Mid Cheshire RDA

70.56%

=6

March

Joanne Restarick

Alfie

Tradissar RDA Hampshire

70.56%

8

February

Lucy Hogan

Macie

Barrow Farm RDA

70.00%

=9

October

Frank Coghlan

Quinn

Mid Cheshire RDA

68.89%

=9

October

Lucy Kelly

ZigZag

Buckenham House Group RDA

68.89%

=11

October

Vanessa Palmer

Lucky

Tradissar RDA Hampshire

66.67%

=11

February

Elaine Hughes

Badger

Mid Cheshire RDA

66.67%

=11

March

Emily Johnson

Emily

Kesteven Ridability

66.67%

=14

September

Martin Little

Moses Gate Quennie

65.56%

=14

October

Annie Wordley

Quinn

Mid Cheshire RDA

65.56%

=14

March

Judith Taylor

Stan

Gaddesden Place RDA Centre

65.56%

=14

March

William Swire

Macie

Barrow Farm RDA

65.56%

18

March

Deborah Miller

Memphis Tennessee

65.00%

19

October

Pauline Pearce

Queenie

64.44%

20

March

Vanessa Palmer

Kiwi

Tradissar RDA Hampshire

63.33%

21

November

Lucy Kelly

Joker

Buckenham House Group RDA

62.78%

22

March

Molly Little

Rhia

Barrow Farm RDA

62.22%

23

October

Pauline Thomas

Snugs

61.67%
Grade III
Rank
Qualifier
Rider
Horse
Group
Score

1

March

Dianne Pettet

Lucky

Tradissar Rda Hampshire

70.00%

2

October

Mary Leigh

Callan

Mid Cheshire RDA

62.27%

3

March

Pauline Pearce

Queenie

60.91%