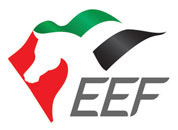 Congratulations to the UAE team: Christina Calin-Thompson (R. Al Abbar Stables), Lynn and Claire Al Redha (Al Hamrae) and Diana Breeze (Dubai Polo Equestrian Club) who came top of their region in the FEI World Cup Challenge beating riders from Cyprus, Greece, Israel, Malta and Turkey. Thirteen-year old Sarah Khairallah (Emirates Equestrian Centre), competing as an individual, won the region's Juniors and had the fifth highest score in that category throughout this world series. The competition was judged by Mrs Joan Macartney from Canada and Dr Slowomir Petrzak from Poland.
2013 sees the start of the 33rd year of this worldwide dressage competition. It gives the less experienced rider, who under normal circumstances cannot take part in international competitions in the more remote countries of the world , the opportunity to compete internationally without leaving their own country. Internationally experienced FEI judges travel to the individual geographical regions of the world. Each country in the specific group is judged by the same two judges with tests running from the FEI Challenge Preliminary test to the FEI Prix St Georges.
With approx 55 countries taking part in this exciting dressage development project throughout the year, Dressage Anywhere is keen to help these riders by giving them the opportunity to ride and practice their tests to recieve top class feedback before their Challenge day.
We wish all competitors the best of luck in the new Challenge Year and hope we too can contribute in expanding horse riding activities and knowledge throughout the world.