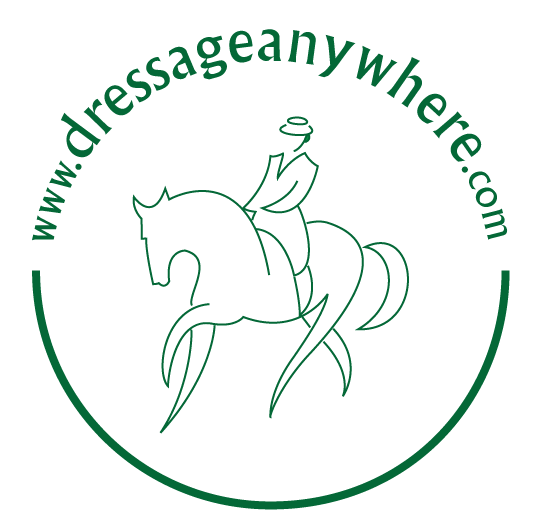 Press Release August 2010
www.dressageanywhere.com the worldwide on-line dressage competition website is launching a Riding School League giving riders, young and old, who do not own their own horse the opportunity to compete through their Riding School against similar riders without even leaving the yard.
Persuade your Riding School to take part in this exciting new venture to win prizes and rosettes. Ask for for your favourite horse or pony, choose an appropriate level British Dressage test and after practice, have the test videoed. You don't have to be an advanced rider, choose a walk and trot test or ride more advanced movements. Your test will be marked by a British Dressage judge and moments after judging is completed you can see your score sheet, comments and position in the competition online. Not only will you be competing for rosettes and prize money but you will be helping your Riding School gain points in this special new League. They could win a prize too. Filming of the tests can be done during lesson time, giving you valuable experience and a taste of what it is like to have your own horse or pony.
The league will run from September 1st 2010 to March 31st 2011. Register now for free and ask your School to do the same to see what it is all about. Points are gained for each client who enters a competition and they gain more points dependent on their placing in the class. All the points are cumulative and the riding school with the highest points wins the league at the end of the season.
Give added purpose to those lessons on the flat and with the opportunity to win prizes, rosettes and compete against Riding Schools worldwide, what better way to get a taste for the competition lifestyle?
Entering is simple, all you need to do is ask your Riding School proprietor to email info@dressageanywhere.com and request a Riding School registration in order to create your own Riding School group on-line. Riders can then register their own individual details and the school proprietor adds them to the riding school group and you can all start competing for points for your Riding School.
You simply upload your videos as directed on the site (following simple, on screen instructions) and each rider pays individually for their own tests. You can check how your riding school is doing at any time on-line, each entry gets the riding school 1 point and if riders get placed the school gains more points - 1st place gets 6 points down to 1 point for a 6th placing .
The rules are simple: dress can be informal but must be safe, horses and ponies can be ridden by more than one competitor and only horses and ponies that are used in the Riding School may be used. Ask your Instructor to contact us now!
For more detailed rules see: www.dressageanywhere.com/home/dressageanywhererules.
For further information: www.dressageanywhere.com/Home/RidingSchools