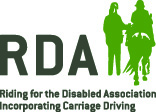 Dressage Anywhere is delighted to host the RDA National Championships 2014 Freestyle to Music classes online. These classes are specifically for riders who were unable to ride their music tests at Hartpury due to the bad weather. You will receive an invitation and more information about this exciting opportunity from the RDA National office.
The classes are now live - see the schedule online and follow the instructions to enter. Judging will start on 1 September and entries will be closed and finalised by 30 September.
Register
Register for free at www.dressageanywhere.com.
Enter
To view the classes and enter go to the schedule. Select the class you want to enter and click Add to cart. Once you've chosen all of your tests, click the shopping trolley icon top right to go to the checkout.
Payment/voucher code
On the payment page, input the code given to you by the RDA National office in the voucher code box.
Ride and film your test
Then video your test. For more information on filming your test see our help page.
Upload your video
To upload your video, login and go to your My Entries page, click your entry and then follow the upload instructions. More information about uploading videos is on our help page.
Judging
Your test will be judged online and you'll receive an e-mail with a link to download your scoresheet. View the scoreboard to see your placing against the other competitors.
Rosettes
Once all the classes are finalised your rosettes will be sent straight away!
If you have any queries get in touch with us at help@dressageanywhere.com.