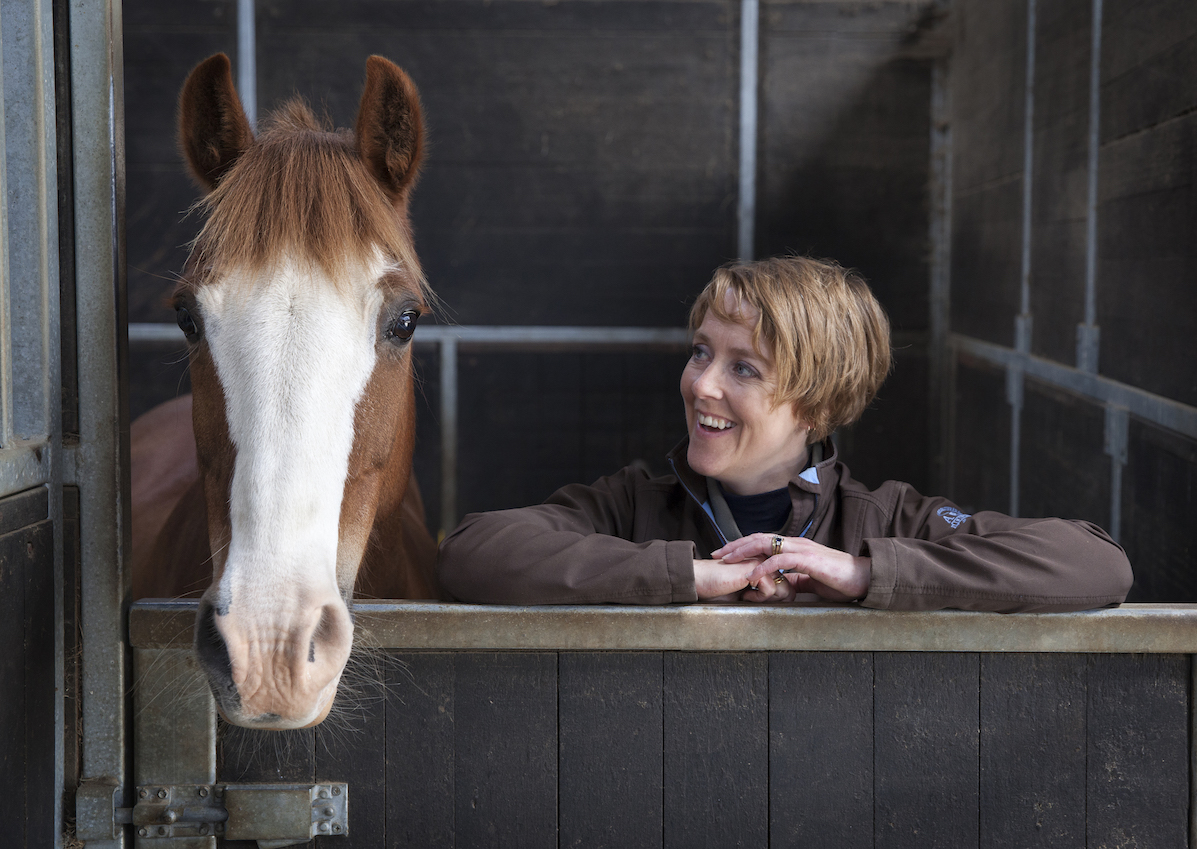 Ever wondered how Dressage Anywhere's training tests can help you to set and achieve your goals? Ruth from our team put it to the test!
This is Geoffrey, my 14.2hh cob x llama. For those of you who haven't read about us before, we've been together for over 10 years and following a bit of a nasty incident in the show jumping ring our focus has been on dressage. He's not really built for dressage and can be a tricky ride at times, preferring to check out the stars and evading any kind of suggestion that he relax and just go forwards nicely. He's a happy little soul though, very cheeky and loads of fun.
Last year we qualified for the BD Regional Championships and I wrote a blog about it here and this year I'd like to aim for the same plus see if we can manage to place a little bit further up the class.
Downtime
We've had a bit of downtime over the winter months. Poor Geoff's skin reacts to being clipped and being a hairy cob managing him unclipped isn't really an option. So we tend to take it easy over winter, just keep ticking over and do a bit of happy hacking.
We were a little bit late getting going this year and got back into our training sessions in February just in time to make use of our new indoor arena during the storms and worst of the weather.
Setting goals
I'm big on goal setting - I set goals for absolutely every area of my life! Drives my husband mad, but I find it really important to challenge myself and celebrate success.
Now bear with me here, I've got some stats on how goal setting can help you achieve better results. The American Society of Training and Development (ASTD) did a study on accountability and found that if you have an idea or a goal, the probability of completing it is just 10%. This rises to 25% if you consciously decide that you're going to do it. If you then go on to decide when you're actually going to do it, it rises to 40%. Now if you actually put a plan in place about how you're going to do it, the probability rises to 50%. Telling someone that you're going to do it, so really committing to it, means you're 65% likely to achieve it. The really interesting thing is if you create accountability with another person then the probability of achieving that goal is a whopping 95%!
So my goals with Geoffrey look something like this: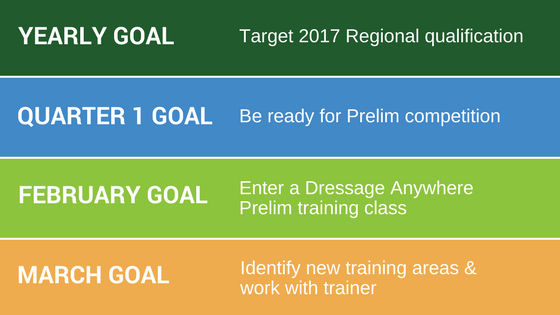 The great thing is, I can tick off the quarter 1 and monthly goals so we're in a good position to start thinking about our quarter 2 goals and getting out to competitions.
Training test
At the end of February I spent ages learning Prelim 14 - I picked that test as it had some movements I really wanted to work on where we usually drop marks, things like the trot to walk one horse's length in the corners, these are usually tense and a bit hurried. I rode the test twice, but when I watched both back, the first one was by far the best so I submitted it to Dressage Anywhere and waited anxiously to see what the judge thought.
We were lucky enough to be judged by a BD List 1 judge and the feedback was spot on. We managed to achieve 68.65% with a 7.5 for rhythm and a 7 for suppleness. Our best mark was an 8 for 20m circle in canter and the judge commented that we were 'balanced and regular with good energy and suppleness'. We also got some great suggestions of areas to improve that I've been able to talk through with my trainer and our last session focussed just on these areas. Our next one is in early April, so I'm doing my homework every week to make sure we can show some improvement.
Training and homework
The first area is the transition to walk one horse's length and transition back to trot. We scored 6.5 for this, which I'm pleased with but the judge noted we need to show more relaxation over the back. So our focus in training has been to do a downwards transition in the corner but not ask for the trot transition until we've got that relaxation. Gradually, the time before I ask for the upwards transition has been decreasing and we've managed to get much better relaxation.
The other area is our free walk on a long rein. In many BD tests this mark is multiplied by two so it's a really good opportunity to boost your marks. I very rarely practice this at home and so our free walk has always been a bit rubbish. It varies between no stretching and mooching along to super fast and jogging at the end. We scored a 6 and the judge commented 'very clear 4 beat but needs to seek the contact and take it down more consistently for more supple back and longer strides with more overtrack'. And our transition into medium walk is always tense, I think Geoff's protesting that he thought he was done for the day!
So our work in this area has been to change the rein in free walk on a long rein over and over and over again. However, my focus is on relaxing my back so I allow my hips to really move and through giving more rein he's stretching down further than ever before. We've started jogging as we get to the corner and the judge advised to keep going around the short side of the arena in free walk before transitioning to medium walk. Gradually we'll reduce the time we spend in free walk to really nail the transition back to medium walk in the right place.
The best feedback I had was about my elbows! The judge encouraged me to carry my hands a little higher to help my elbows to bend, really assisting with the elastic connection needed and it has worked. With my hands lower, I tend to straighten my arms and lock my elbows so by just keeping them a little higher I can maintain that softness and it's really starting to make a difference.
We've got lots of homework and some great suggestions of what to work on, which has helped us hugely and will form a large part of the next set of goals as we work towards getting out to competitions!