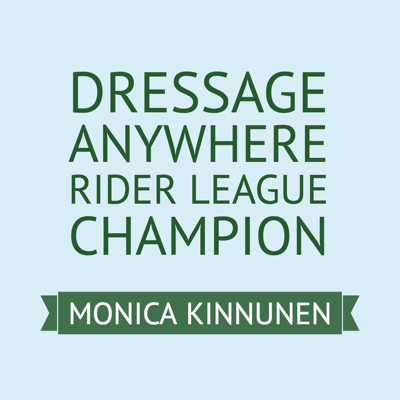 Monica and Rhodonia from Finland were our 2017 Rider League winners with a whopping 169 points! Here, Monica tells us all about her very special mare, talks about her training and what their plans are for 2018.
Rhodonia is a 2011 Finnish Warmblood mare (Sir Donnerhall I x Rohdiamant). She was bred by our (previous) stable keeper/trainer, from whom my sister and bought her as a two year old filly. So basically we have known her for her whole life.
She is a little princess horse, whose life should be absolutely perfect - at least by her own standards. Place a rug on her just a tiny bit wrong and she will let you know it.
She is a horse that thinks a lot, sometimes maybe too much. However, that makes her a very special kind of girl.
She has been competing in FEI young horse classes under professionals, and we are aiming to school her to as high a level as possible and all the way to Grand Prix, if she stays healthy that is. She has the capacity for it, it just needs to be brought to the surface piece by piece.
We started out the year 2017 quite fumbly as I pushed us to try Preliminary level, even though I could barely keep her in canter. During the previous year she strained a muscle in May while out at pasture and after that developed a persistent mud fever that lasted all the way to autumn. During all of these months she was lame and it affected the quality of her canter quality quite badly.
Before this, she had been mainly schooled by professionals, but by this point we wanted to take more responsibility for her rehabilitation and training. As she is a very sensitive horse, the first thing I had to fix myself was my own seat. And with this my sister helped me a lot by lunging us and correcting the position of my body and its flow to the horse's movement. It is still a continuous work in progress, but just by correcting my own position we managed to raise our test result level by around 10%, and that's a lot!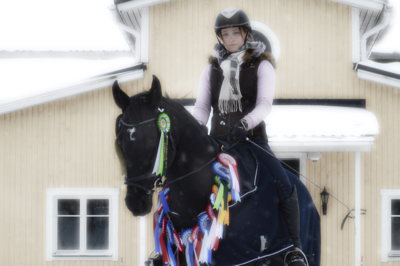 In April we tested ourselves at Novice level. The snow in the outdoor arena had finally melted and because its surface is not as hard work as the indoor arena, her canter also got better. Percentage was just a tad below of what I had deemed myself to be happy with, but very good for a first try.
We had lots to work at Novice level before moving up. I didn't want to ask her for things like rein-back untill we managed to re-school her in it (she didn't react to the riders aids there in the correct way). Also, halts needed a lot of attention and medium trots were just starting to slowly build into showing more lengthened steps, instead of just hurrying in the rhythm. I did hope that we could test ourselves at Elementary level before the end of the year, but we needed to be able to perform walk to canter transitions, which I could only do for right canter. Also, the canter itself would need to have a a bit more collection before we would be able to do canter-walk transitions, and this feeling I did not have at all.
During the summer months (May-August) I rode Rhodonia occasionally as she mostly trained under a professional rider, with the objective that she could participate in the FWB Breeders' Prize competition. We knew it was a stretch to get her to learn flying changes in a few months and to qualify into the competition, but decided to give it a go without any real stress.
In July we travelled to outside competitions where she participated in an FEI 2009 CCI*/CIC* Eventing Dressage Test open to 5-6yr old horses placing third and on the second day FEI Preliminary Dressage Test for 6-year old horses, winning with a respectable score of 74% and qualifying to the Breeders' Prize competition. In August she placed third at the BP competition for 6yr old horses.
Her training level took leaps forward during the few months, but it's still quite a different thing for a professional rider to carry the horse through a challenging test than for me, as an amateur, to be able to ride the same things with her. We are now, little by little, building together the necessary groundwork needed for us to really take on the Elementary/Medium level tests.
Because we moved our horses to a different (more lively) yard at the end of November, test filming became a bit more challenging for us as there's almost always other riders around and we can't just book the whole indoor arena just for ourselves. But we did manage to fulfill my goal of riding our very first Elementary level test on December 31st. I got up at 4:50 AM to be able to ride and film our test before any other riders appeared. All in all, there were lots to improve upon, but also some very nice parts. For one, we did get a 7 for the rein-back (which I was super pleased with how we presented it). Now we're taking some time apart from filming dressage tests and concentrating on training. During spring (once we have another riding arena in use) I hope to be able to tackle the Elementary level and then onwards.
2018 Rider League
Riders taking part in our monthly competition classes (classes 1 to 7) are eligible for this year's Rider League. Points are calculated automatically and updated on the Rider League scoreboard, so you don't need to do anything or enter a separate competition! More information about scoring is here on our help page.