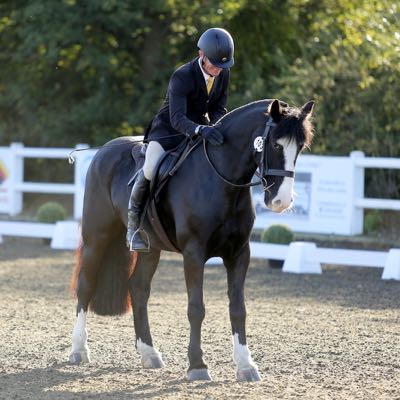 Continuing our Champion Born to Shine on the Centre Line series is Hugh Norris. Hugh from Devon placed 1st in the BD Online Associated Championships at Introductory Restricted. We caught up with Hugh to find out more about his lovely horse, Geno.
When and why did you start riding?
It's all my wife's fault. Kristel had always wanted to ride but for one reason or another didn't do very much as a child. About five years ago she suggested we go for a ride locally and that was it - I loved it. We had weekly lessons for about a year, then Kristel bought her horse, Jacob, and the journey really started.
Tell us an interesting fact about yourself!
I make a living as a computer programmer and I've been told more than once that the most interesting thing about me is Kristel! I'm inclined to agree. She's quite simply my best (human) friend and the reason we have three lovely cats, a fish that seems to have lived forever, and of course our two horses, Jacob and Geno.
Tell us a bit more about Geno
Geno is a dark bay Irish Cob born in 2011. Kristel found Geno for me about two and half years ago. She decided that the ideal present for my 50th birthday would be a small, sensible cob that she could ride if I didn't have time. After I'd test ridden a couple of nutters, Kristel saw an advert on Facebook for Geno - genuine reason for sale. He was about 15hh, was really slow, had such a lovely face and looked a little lost in the world. I just had to say yes.
Have you got any interesting stories or anecdotes about Geno?
When we got Geno home we put him on a lunge line and he promptly stood on his back legs kicking the air and acting like a lunatic. He grew four inches in the first year. Despite once facing off with a stallion that got in his field, he'd spend most of his time running away from everything and anything including the rest of the horses on group rides. That genuine reason for sale quickly became apparent. My secret weapon is carrots. He did eat my ice cream once, but didn't really like it.
---

'There's nothing scary at C!'

Hugh Norris


---
What level do you compete at?
We've been concentrating on Intro to give us time to really learn the basics and for Geno to mature a bit mentally and physically. Geno didn't have a natural canter so we've been building that up while hacking, with a few Prelim tests now and then just to see how he's progressing in the school. The canter work and some better technique from me has really helped Geno to work from behind which seems to be showing in his walk and trot in the Intro tests.
What do you want to achieve in 2019?
Geno's now strong enough behind to hold his canter and I've just about worked out how to stop waving my arms around when we do it, so it's time to concentrate on Prelims.
What's your biggest challenge?
Me being 52 years old is sometimes a bit challenging. Other than that it's Geno's confidence that holds him back. We've come a long way since our first affiliated test in Feb 2017 when we trotted, slowly, down to X then ran backwards at full tilt when Geno noticed the two nice ladies in a box at C. Having said that, we were eliminated early in 2018 from an affiliated competition at a new venue because Geno refused to go any further than X. (At least he didn't run backwards!)
---

See also
---
What's your biggest achievement to date?
I'm staggeringly proud of Geno for coming overall second (first in the restricted section) in the Dressage Anywhere Intro BD Online Associated Championship 2018!
How did you first hear about competing with Dressage Anywhere?
Again, Kristel is the answer. She did some competitions when she first got Jacob and still does do the occasional test when she has time.
What's your favourite thing about competing with Dressage Anywhere?
There's nothing scary at C! Honestly, it's made such a huge difference being able to prove to Geno that he can work nicely and well if he puts his mind to it. It's fair to say that I started doing more tests with Dressage Anywhere earlier in 2018 because I stopped taking Geno out and about after our elimination. Dressage Anywhere has given us the opportunity to continue improving ourselves without the stress of an unknown environment, allowing Geno to gain confidence in himself and me. The feedback from the judges is always so encouraging and supportive and has really helped me improve my riding and motivate me to help Geno become a stronger, safer, more confident and more enjoyable horse. Moving on, I'm looking forward to trying some Training Classes to help with our Prelim work.