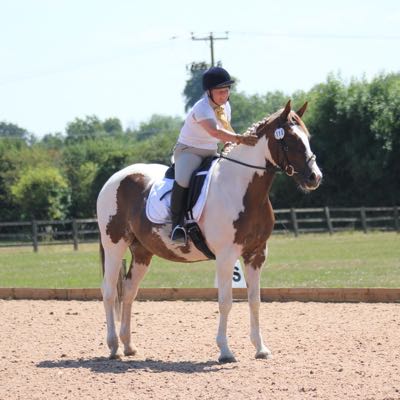 Next in our Champion Born to Shine on the Centre Line series is Catherine Blackmore and Luta Ska from Tewkesbury. Catherine placed 2nd in the Novice Restricted and 4th in the Elementary BD Online Associated Championships 2018.
When and why did you start riding?
Started riding when I was 5 years old. Both parents were totally un-horsey but I desperately wanted to learn to ride!
Tell us an interesting fact about yourself!
When I'm not being horsey I'm a head banging techie!
Tell us a bit more about your horse
Luta Ska (stable name Lottie) is a 7 year old skewbald: 1/4 cob, 1/4 TB and 1/2 warmblood.
Where did you find each other and how long have you been a partnership?
I moved to a new yard with my previous horse, and was invited to see the three day old foal that had been born just before I moved into the yard. The foal was gorgeous, but more interesting to me was the cheeky and friendly 11 month old filly that I passed on my way to see the foal! Three days later Lottie belonged to me!!! We've been a partnership since then, although it's not always been smooth sailing!
---
See also
BD Online Associated Championships 2018
---
Have you got any interesting stories or anecdotes about your horse?
Lottie is a bit of an escape artist. If she's not in her stable or tied up where you left her, she's often to be found in the hay barn! Occasionally curled up fast asleep!
What do you want to achieve in 2019?
We'd like to qualify for the Pet Plan Areas at Elementary and would love to get to the finals. We'd also like to try out Dressage To Music.
What's your biggest challenge?
Consistency and suppleness to the right!
What's your biggest achievement to date?
Completing the Wobbleberry Challenge on Lottie in 2017.
How did you first hear about competing with Dressage Anywhere?
I heard about Dressage Anywhere from a lady at my livery yard who had recently returned back to the UK after living in Dubai. It sounded like fun and we created the Lyne House Lovelies team.
What's your favourite thing about competing with Dressage Anywhere?
I love that I can ride tests without even leaving my yard and get them judged by listed BD judges who give incredibly useful and helpful comments. It's good to be able to continue competing and developing through the winter months when getting out to competitions becomes erratic with the weather.