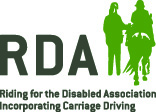 RDA Online Dressage Championships
Hosted by Dressage Anywhere
Riders from all over the country have been taking part in five different levels to qualify for the Riding for the Disabled Online Dressage Championships. The qualifying period will close on 31 March 2013 and the Championship Show opens in April and runs through to 31 May 2013.
We're delighted that FEI 4* Para judge Sarah Leitch will be judging the Championship Show entries. Gold, silver and bronze medals, kindly provided by Carl Hester RDA Rein will be awarded to the top riders in each class and will be presented at the RDA National Championships. The winner of each class will also receive a pair of the special Fantastic Elastic Reins.
Qualified riders will be contacted and invited to enter the Championship Show as soon as the March competition closes.
Check the current rankings for each class.